If you want the ultimate celebration for a bride-to-be, it doesn't get better than a hen party holiday. To make things easier, we've put together a complete guide, including the big plus points, some hen party holiday ideas and everything you need to know about timings.
Why go on a hen party holiday?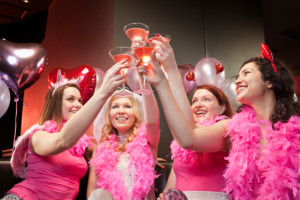 It's a good question – and one you should certainly be asking as a bride-to-be, bridesmaid or just designated party planner! More specifically, why should you opt for a hen party holiday over the more conventional options?
More time for fun
Firstly, a holiday stops the hen party being short-lived. We've all been to hen (or stag) parties which fly by in an instant. You spend months looking forward to it only for the night to pass in an instant. With a hen party holiday, you can get away for a few days rather than a few hours, making far more memories in the process.
Something for everyone
Additionally, hen party holidays provide a lot more variety than a night on the town. Don't forget that hen parties involve people from all age groups. At a holiday home, everyone can do their own thing while still taking part in the celebrations. Older relatives can retreat to their private quarters for the night if things get too lively, for example, rather than having to miss out altogether.
Don't forget that you can also book a hen party holiday in a location with lively nightlife if you want to get the best of both worlds!
Mingle to your heart's content
Finally, a hen party holiday provides much better mingling than any of the alternatives. The bride has more time to see all of her favourite people, rather than having to hastily circulate around the group to make sure nobody is left out. More often than not, those different groups of friends and relatives become one big unit on a hen party holiday.
6 hen party holiday ideas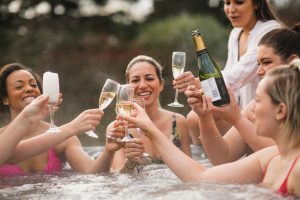 Below, we'll look through some great things to do on your hen party holiday…
Pool party
Holiday homes with a private pool are undoubtedly one of the most popular choices for hen parties. With good reason too. It's a fun activity before the night-time celebrations – not to mention a good spot to recover the following day.
Book a private chef
Food can be one of the highlights of any hen party. But it can also be hard to organise when you want to delight all the attendees. A private chef ensures that the food is unforgettable while adding that extra luxury factor to the getaway.
Cinema night
Who doesn't love a cinema night? With a private cinema room, you can gather all the girls for a chick flick or just the bride's favourite movie. Set the scene with a romantic film on the first night or recover from a hangover with a comedy later on in your break.
Hot tub holiday
Hot tub houses are another big draw for hen parties. The bride will love the combination of bubbles and bubbly as everyone toasts her and wishes her well.
Themed fancy dress
Fancy dress is always fun for hen parties. But you might not like the attention it gains in a public place. There's no such problem at a luxury holiday house. Everyone can dress as the bride or choose a theme that she loves, then party through the night.
Spa treatments
Spa treatments have become synonymous with hen parties. But you don't have to plan your entire event at a spa to enjoy them. Mobile spa experiences can be booked for your holiday home, giving all the guests some much-needed pampering in your chosen surroundings.
Timing for a hen party holiday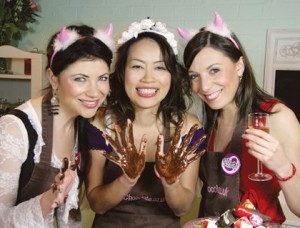 Ready to start planning? Let's run through some important timings to consider…
How long should we book?
The great thing about a hen party holiday is that it's not over in an instant. Shorter breaks are usually 2-3 days, like a long weekend. However, it's not unusual to have a hen party lasting a full week if everyone has the time.
What dates to choose
Long gone are the days where hen parties were held the night before the wedding. But you don't want the event to be too long before the big day. Most hen parties are held between 1-2 months prior to the nuptials.
When to book your holiday
With the high demand for pools, hot tubs and beautiful locations, hen party holiday houses can get booked up pretty quickly. Ideally, you want to book a cottage at least three months in advance.
And when to start planning
Hen party holidays are more of a commitment than a one-day event. As such, you should start planning several months in advance, so you can give everyone plenty of notice and get as many people there as possible.
With all of the above in mind, you'll want to start planning the event around a year before the wedding takes place.
Where to have your hen party holiday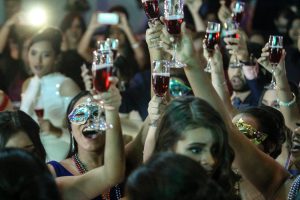 The location of a hen party holiday depends massively on who is coming.
What does the bride want?
Firstly, the bride. Does she have anywhere in mind? That could be a favourite spot from childhood holidays or an interest that lends itself to a particular location.
Brides that love the beach will adore a holiday house by the beach, for example, while thrill-seeking ladies might prefer a trip to Wales to try the world's fastest zip line.
Where is everyone based?
Then there are the other guests. It's important to find somewhere that everyone can get to within a similar timeframe to avoid some guests feeling left out. If the bride's future in-laws are from the other end of the country, it might be best to find a middle-point rather than making them travel much further than everyone else.
The good news is that England and Wales have so many fantastic locations for practically any type of holiday. Whether it's coast, countryside or towns and cities with lively nightlife, you'll find somewhere to fit.
Plan the perfect hen party holiday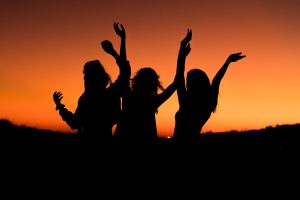 At kate & tom's, we make it easier to plan the perfect hen party holiday with a selection of stunning houses for the bride-to-be and all her guests. Search based on a range of activities and destinations. Or start by finding the perfect house, with options for 10-16, 16-20 or even 20+ hens.
If you'd like any more assistance, don't hesitate to contact our team on [email protected]. Simply tell us what you're after and we'll see what we can do!