When it comes time to choose what little splurges you'll indulge in for your hen do, there's one standout luxury treat that will instantly make your weekend, or week, more glamourous – a hot tub. 
No matter the occasion, a hot tub always seems to elevate a party, especially when it's with your best friends. So, why not include one in one of the most important parties of your life? 
You may be asking 'but is the potential extra expense worth it?'. Well, here are five reasons why you should be looking for a hen party house with a hot tub to stay in for your pre-wedding send off. 
Keep everyone happy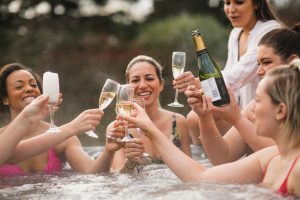 As the hen party gets closer, you'll undoubtedly start to wonder what you'll get up to on your weekend or week away. For some brides-to-be, this can turn into a touch of anxiety – will everyone get on, will we have plenty to do? With a hot tub, the answer to both is yes.
A hot tub is essentially a headline act for your hen party, providing the perfect place to enjoy your getaway both day and night. Get everyone in their swimsuits for a daytime catch up submerged in bubbles. Or turn up the music, get the drinks on ice and get everyone involved in your hot tub party.
2. Have the most picture-perfect getaway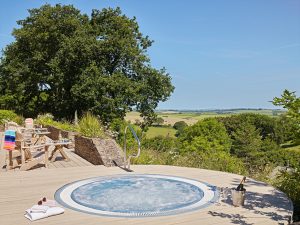 Alongside your hen do's headline act, you've also got the potential to snap some incredible pictures for your grid. Regardless of whether it's wedding season or not, with a hot tub, your stay instantly becomes more visually luxurious. So, when you're flooding Instagram, TikTok or Facebook with a getaway album, make sure your hen do pictures make their mark. 
Admittedly, making memories is not all about capturing them, but it's always nice to look back on a special time in your life and remember how much fun you had. So, make it all the more glamorous with a hot tub to relax and snap in. 
3. Reconnect with mother nature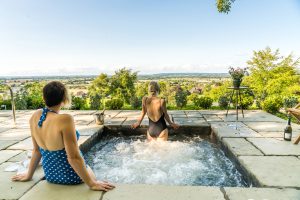 In a time where we're all so connected at all times, there's something to be said about switching off and reconnecting with your friends and the outdoors. No matter the time of year, clear-skied summer evenings or brisk snow-sparkling nights, your time will be special in your perfect getaway. 
There's something to be said, though, about gazing up at the stars in your hot tub and reconnecting with the sounds of the outdoors and nature at night, especially at a home dedicated to making your weekend special. 
Whether it's the dawn chorus or the night owl's song, by getting out into nature whilst being immersed up in a pool of warmth and comfort, you're undoubtedly going to be boosting that serotonin. Exactly what most brides need before their big day!
4. Kill that hangover with a dip in your tub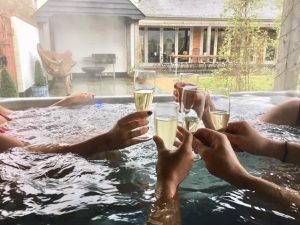 Hot tubs are well known to reduce anxiety, improve blood flow and, yes, even rid people of their hangovers. So, if you're the kind of bride-to-be who enjoys a glass (or two) of wine, then never fear. Turn the jets on and sink into your weightless hangover paradise. Sip on some freshly squeezed juice, listening to the birds singing and let that headache melt away. 
And for the healthy bride-to-be, The Guardian just this year mentioned how a bath is almost as good for you as a long run. Surely then, by adding bubbles and jets you're basically running a marathon? 
All jokes aside, hot tubs have been used for thousands of years to ease joint pain, reduce inflammation and backache, improve sleep and they can even help you with weight loss!
Make this the moment you allow yourself to unwind, and thank your friends for all of their help, from engagement to the actual day, with a luxurious trip and dip away. And if you're the one doing all the planning and organisation? Well, even more of a reason to treat yourself – you deserve it after all!
5. Bring a feeling of luxury into your special day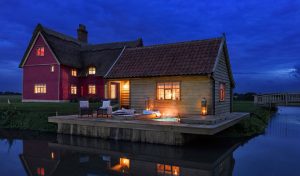 Forget about sharing your time and space with strangers on your hen do, if you have a hot tub at your stay then you won't need to hit up the spa. You can get a fleet of masseuses to come to your perfect holiday home, have a private chef whip up some delicious food while you and your entourage lounge in the hot tub with canapés, and have a nice bottle of bubbly resting in the ice bucket to your side. Just say the word and be manicured, pedicured and pampered to your heart's content.
When push comes to shove, it's all these small things that elevate your trip and make them stand out against the abundant holiday memories. Small details like these are sure to make your wedding party the one that everyone remembers. Find accommodation that comes with everything you could possibly need for your weekend away and you'll never have to leave – making your stay a glamorous one that you'll always remember. 
Browse hen party houses with a hot tub
From daytime relaxation to night-time memories, all with the best snaps, a hot tub can transform your hen party into one that's outstanding and unforgettable. At kate & tom's, we've curated a selection of the best hen party houses with hot tubs along with other luxury facilities.
Private pools, saunas, cinema rooms, games rooms – you name it, we can make it happen. Take a look at our houses with hot tubs today and get in touch for any assistance finding the perfect holiday home for your hen party.