Stunning views are a must-have for any luxury getaway. Thankfully, the UK serves up some truly spectacular sights. The rolling hills of the Peak District, glistening waters in the Lake District or honey-coloured villages in the Cotswolds.
But when it comes to breath-taking views, you can't get better than Cornwall (cottages with sea views, in particular). That's been confirmed by a survey of the British public, who put Cornwall top of the list for jaw-dropping landscapes and Insta-perfect snaps.
Britons' favourite views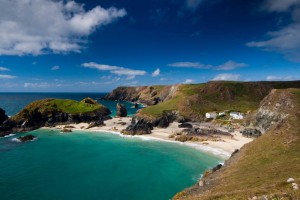 Whether you're looking for a relaxing stay to unwind in or a place to lay your head after an invigorating experience of discovery, one thing's for certain – Cornwall has it all.
The rugged English peninsula is well known for its stunning sandy beaches, beautifully wild moorlands and charming fishing villages. All of these contribute to its first-placed ranking in a survey by Digital Outdoors. 
The survey asked 7,240 people to specifically name their favourite view in the UK. Top of the list was the White Cliffs of Dover, followed by Lake Windermere, Glen Coe, and St Ives Bay in fourth. All the responses were then grouped by county, to provide a list of the UK's favourite locations for stunning views:
Cornwall's stunning sea views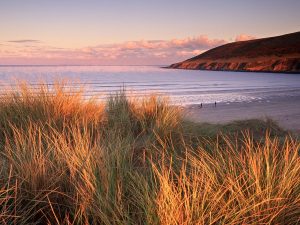 With its fourth-place ranking among specific views loved by the UK public, St Ives Bay is without a doubt a must-see for any Cornwall visitor. Stretching six miles from St Ives round to Godrevy, the bay is home to a long, serene beach – arguably one of the best in the UK itself. That's complemented by rugged sand dunes, crystal waters and rising cliffs either side of the beach – not to mention Godrevy lighthouse just to the right of the bay. 
But, of course, it's not the only place in Cornwall that offers stunning views. Undoubtedly the jewel in the Cornish crown is its inimitable sea views. For a relaxing getaway, what better way to start the day than by looking out into the sparkling ocean with a book in hand? You could walk on white sandy beaches or going dolphin watching!
For the sporty holidaymaker, there are more thrilling activities like surfing, snorkelling, kayaking, (the list goes on). You can make every penny you spend worth it by investing in a stay by the sea at a selection of Cornwall cottages with sea views. After all, Cornwall is famous for its beaches and surf, so why not take advantage of this spectacular location and join the 22% of Britons that voted for the southern peninsula as their top destination?
Here are some of the best-hidden gems to keep in mind for your trip to Cornwall…
Mevagissey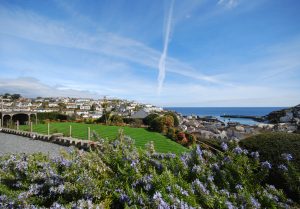 Mevagissey is known for Polstreath Beach, which boasts crystal-clear waters and stunning sunsets. If the beach is too far away for you, simply step out into the gardens of Polpier and Penpol and drink in the view.
With what's considered to be the '8th wonder of the world' in the north of Cornwall, the Eden Project is an unmissable eco-tourist attraction that everyone should see at least once in their life. Stay in an elegant home only 20 minutes away with sweeping horizon views, aquamarine ocean scenes of the quaint harbour, with the added luxury of a heated pool and tennis court.
An hour away from Mavigessey is the hidden Port Isaac, a small fishing village nestled into the Northern coast that boasts tiny alleys that make you feel as though you've gone back in time. Recognised as a port as far back as the Saxon era, and later an established fishing village, it's no wonder this cliffside town has historically listed buildings dotted throughout. (This is also where the T.V series Doc-Martin is filmed! If you time your stay right, you may be able to catch a glimpse of the cast).
Bude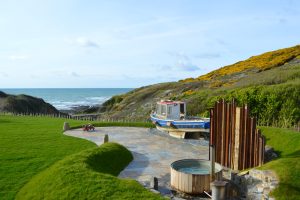 Formerly known as Bude Haven, the West coast Barford Beach house promises exactly that – a haven away from the hustle and bustle of city life. Bude is well known for having a beautiful climate (it was recorded as the sunniest place in the UK in Summer 2013) and miles upon miles of beaches.
The Cornwall cottage with a sea view is built into the hill and promises comfort and adventure with its meld of the modern and chic exteriors and neo-traditional naval interior. Surrounded by some of the most breathtaking and rugged beaches, like the National Trust's Sandymouth Bay, or Crooklet's Beach, you can take yourself and your party out for a long walk knowing you'll be able to come home and unwind in your hot tub or sauna.
Seascape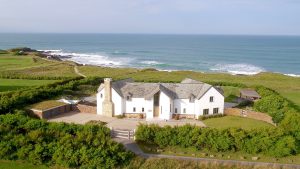 Set between Trevose Head golf course, with direct access to Booby's Bay, Seascape (located on the tiny Trevose head) is the sea-lovers dream. With its stunning wood and Cornish slate interior, you'll almost never want to leave… but you will, because there's far too much of this hidden gem location to offer and explore.
Take a 20-minute walk from this stay along the breathtakingly rugged coastline to arrive at Trevose Head Lighthouse, an unmissable landmark. Originally built in 1844, this lighthouse is the perfect place to watch the sun setting over the Atlantic ocean. As waves crash onto the coastal rockface, and dazzle you with spray you'll wonder 'how can this be England?'.
Quoted as being 'Probably one of the best views of the Coastline in Cornwall' going hiking through the ​​National Trust's Trevose Headland and visiting the 'Giant Blowhole' is a must.
If you love nature, then you'll love Seascape. 'Marine wildlife can also be seen from the headland, with grey seals being regular visitors to this part of the north coast', alongside kaleidoscopes of butterflies that can be seen landing on the unique Cornish countryside. This national park is renowned for its impressive biodiversity, with rare and stunning marine and wildlife often quoted as breathtaking.
Cornwall cottages with sea views
If you want to make the most of your time in Cornwall, there's no better option than your own cottage with sea views. At kate & tom's, we've done the hard work to find the best sea view Cornwall cottages, all with state-of-the-art facilities and plenty of room for all your guests. Get in touch with us on [email protected] to start planning the Cornwall getaway of a lifetime.