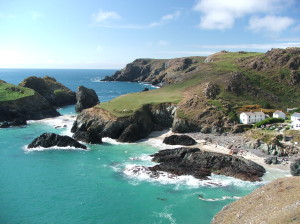 When most people think about renting a cottage for their holiday, they tend to think of popular locations like the Cotswolds, the Lake District, Devon, Cumbria, Sussex, Scotland or Wales.  However, some of the best holiday accommodation options and fun activities are actually located in the South-West of England, in Cornwall.
Cornwall has some incredible holiday cottages available, including many beachside homes with stunning views.  There are also plenty of activities on offer — including some of the best surf spots in England.   Here are a few reasons why you should consider Cornwall for your next holiday and a few of the fantastic cottages on offer.
About Cornwall
Cornwall is a peninsula located on the southwestern edge of England.  It has a diverse landscape, ranging from sandy beaches through to wild moorlands and rolling green hills.  The Celtic Sea lies to the North and West of the peninsula, with the English Channel to the South.  The county covers more than 3,563 km² and has a population of approximately 536,000.
Cornwall has many picturesque seaside villages including Fowey, Cawsand,  Kingsand, Boscastle, Mevagissey and Falmouth.  Many visitors to the area spend days exploring these villages, having a swim then enjoying the high-quality seafood and many ales on offer.  These villages are one of the best kept secrets of Cornwall and a major drawcard for  the area.
Cornwall has a reputation for having the best surf beaches in the United Kingdom, with many situated close to Newquay.  If you are into swimming, surfing or bodyboarding, you will have the time of your life.  While Newquay is quite famous for its beaches, many tourists don't realise that there are dozens more beaches along the coastline, all offering a unique swimming or surfing experience.
Some of the Best Attractions in Cornwall
While most people know Cornwall for its surf, it is actually packed with a wide variety of tourist attractions, beautiful parks, museums and important historic landmarks.   Some of the most popular attractions in Cornwall include:
The Hidden Valley Discovery Park
Many challenging puzzles and brain teasers that both children and adults can enjoy.
Cornwall's Crealy Great Adventure Park
Set on a 111-acre estate, the park features many rides, play areas and animal encounters.
Oasis Fun Pools
A large water park in Newquay which the kids will love!
Newquay Activity Centre
One of the best ways to get active in the outdoors, the centre has surf, bodyboarding and coasteering lessons.
Lizard Adventure – Day Tours
Enjoy some rock climbing, surfing, kayaking, coasteering and much more
St Mawgan
Hidden in a stunning valley, this is one of the prettiest villages in England.
Kingsand & Cawsand
Two of the best coastal villages in Cornwall, a must-see!
Port Isaac
The filming location for the popular TV series "Doc Martin", this is another fantastic village to visit.
The Lizard and Kynance Cove
The beautiful Cornwall coast at its best, a short walk from the nearest village.
Carnewas and Bedruthan Steps
A high rocky outcrop featuring some of the best views in Cornwall. Visitors can get to the beach via some steps.
There are dozens more sights to see and activities to enjoy!
Some of the Many Outstanding Cottages in Cornwall
There are a diverse range of cottages on offer in Cornwall, from intimate 2-Bedroom cottages that are perfect for couples, through to huge beachside party houses that sleep up to 26 people.  Here are a few of the best!
So the next time you are thinking about where to go on holiday — consider Cornwall.  It isn't just sandy beaches, but a whole lot more!