Following on from our Learning from Stately Homes (you might be interested in previous post: Learning from Stately Homes – Decorating your rooms) series we now move out to the Garden to see what we can learn from the gardens of Stately Homes.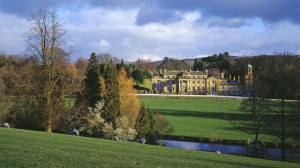 Many stately homes have magnificent gardens which accentuate the beauty of the home. The style of gardens used around stately homes varies with some homes having formal gardens in the renaissance style while other have naturalistic or English landscape gardens.
This article will take a look at types of gardens commonly used around stately homes and share a few tips on how to achieve the same look in your own back yard.
Styles of Gardens Used Around Stately Homes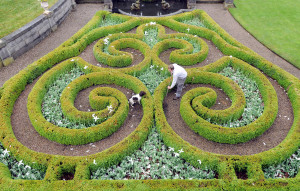 Renaissance and Formal Gardens
When stately homes began to appear throughout the United Kingdom in the mid-16th century, formal gardens were in vogue. The gardens were planned very precisely and featured many straight lines and repeating patterns. Symmetrical lines were commonly used to draw a viewer's eye to a central water feature or statue. The central feature acted as a strong central axis for the garden.
Formal gardens always have a sense of balance and symmetry about them — you won't find a plant out of place! Well-manicured lawns and hedges are used to provide structure in a formal garden, creating shapes and pathways. Any trees or shrubs present in the garden must always be neatly trimmed and well-presented. Formal gardens commonly use features like pergolas, terraces, topiaries and pavilions.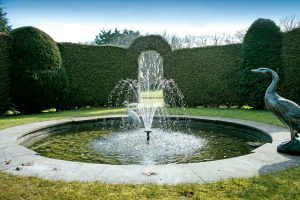 English Landscape Gardens
By the early 18th-Century, the "English Landscape Garden" became the dominant garden design used by stately homes. These gardens attempted to present nature at its finest. Drawing inspiration from landscape painters around at the time, these gardens usually feature large lawns, lakes, bridges, water features, statues and groves of trees.
English landscape gardens often feature recreations of classic pieces of architecture including ancient temples, greek ruins and gothic buildings. These types of gardens became so popular that most modern parks in the Western world use this design style to the present day.
Kitchen Garden
Even stately homes required a kitchen garden! In the case of stately homes the kitchen gardens were often constructed with military precision — raised garden beds divided into very orderly rows. Kitchen gardens were always kept separate to the main decorative garden in stately homes, often behind the home, down a long path or behind a grove of trees. It was considered to be the 'working garden' that kept the household fed.
Sometimes non-edible flowers and herbs are added to the kitchen garden to improve its appearance. The "Potager Garden" design technique works this way, adding flourishes of colour to make even the vegetable garden a beautiful space.
Learning from Stately Homes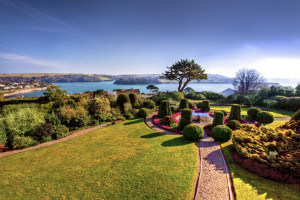 Here are some simple tips that we can take from the garden designs used on grand homes.
Well-manicured Lawns Close to the House are Practical and Look Great
Many stately homes keep their gardens separate from the main building. This was often done to make the home look more impressive without plants distracting the viewer's gaze. Lawns were also used by the residents to play their favourite sports including croquet and badminton.
Throwing outdoor parties with seating and tables also requires open spaces, which a lawn provides. Even if you don't have acres of land surrounding your home, you can provide a sense of space by keeping a strip of grass around your home. Before planting any shrubs, think about where you will entertain guests.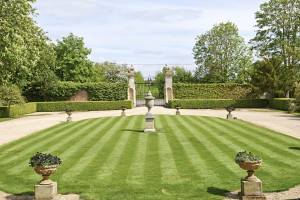 Symmetry is Important in Both Kitchen and Formal Gardens
Stately homes use symmetry, structure and repeated design elements in the creation of their formal and kitchen gardens. Before even putting your shovel into the soil, measure the area you are working with and create a symmetrical design on paper. If it is a large space, consider dividing it into smaller symmetrical gardens, nested inside one another. Avoid wavy lines in your design, instead focussing on smooth curves and straight lines.
Keep Formal Gardens Simple
Most formal gardens actually have a smaller number of plants than you would expect. They often repeat the same varieties of plants and it is the overall design of the garden that attracts the eye. Use the power of repetition to make the lines in your formal garden stronger.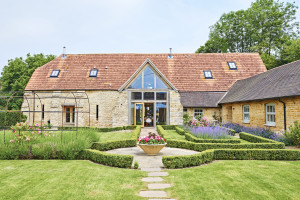 Choose Quality Items
To make your garden appear as if it should be attached to a stately home, use quality plants and hard landscaping. Choose a traditional stone and quality gravel for paths and garden beds. Avoid using various types of cheap mixed mulch and instead buy a quality evenly coloured mulch.
Take your time and gradually build your garden with quality species of plants, even if they cost a little more. Remember that the plantings can be limited and it is about quality over quantity in many cases. Evergreen plants are extremely useful because they maintain a consistent colour and frame for the rest of the garden — evergreen hedges are fantastic!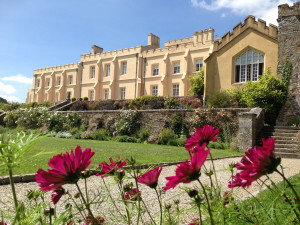 Some plants that work very well as short and tall hedges include:
Lavender
Rosemary
Dwarf box (Buxus sempervirens 'Suffruticosa')
Box (Buxus sempervirens)
Privet
Clipped citrus trees
Ivy
Experiment with the techniques used in stately homes and combine them with modern plantings for some interesting combinations!
kate and toms are very proud to recommend a stunning property which has an equally stunning garden, so if relaxing is your thing then The Italian House is for you!