Are you heading on a UK staycation with your loved ones and looking to add a little something extra? Perhaps you're celebrating a special occasion? Or maybe you just want to sit back, relax and enjoy your mini break in England or Wales? Wherever you're going and whoever you're going with, a private chef can turn a great holiday into an unforgettable experience.
Read on as we look at 10 ways a private chef can transform your staycation, including how to book your own private chef with ease!
1. Keep it stress free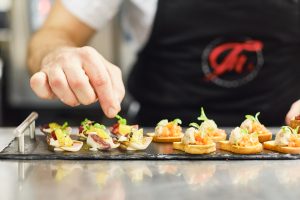 One of the biggest benefits of hiring a private chef is that they will take care of everything whilst you sit back and enjoy your holiday. From the trip to the supermarket and unloading your car to deciding what to cook and slaving away at the stove, the last thing many of us want to be doing on holiday is cooking. Especially if you're travelling with a big family or a large group of friends, you can spend hours simply making breakfast, lunch and dinner for the group. With a private chef, you don't have to worry about a thing.
2. Get a taste of luxury
There's nothing more luxurious than having a professional chef cooking you a delicious three course meal without having to lift a finger. Think the finest quality ingredients and recipes cooked for you in the comfort of your own home from home. Enjoy fine dining starters, mains and desserts or ask for a special version of your favourite home comforts.
3. Cater to any dietary requirements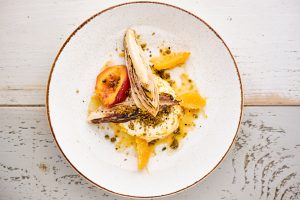 For most people, holidays are a time for indulging and treating the whole family but if you have dietary requirements or are watching what you eat, going out for meals can be stressful. That's where a private chef comes in handy. They cook you a meal tailored to your specific requirements, from gluten and dairy-free to vegetarian, pescatarian or full-blown vegan.
Whether it's one guest with an intolerance or an entire party with a dietary requirement, chefs will make sure everyone can sit down to a delicious meal with luxury, restaurant-like atmosphere.
4. Try something new
Variety is the spice of life. But we've all got them staple dishes we make most weeks. Even when you're on holiday, it can be easy to revert to these week-on-week crowd pleasers to keep things simple.
A private chef can add another dimension to your UK staycation, cooking extra-special recipes than most people wouldn't normally make. Whether it's the perfect souffle or a delicious confit duck, they can make sure your food stands out as much as your luxury accommodation.
5. Discover local ingredients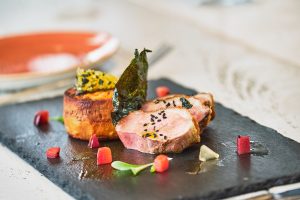 When visiting a new place, one of the best ways to immerse yourself in the culture of the local area is by tasting some of their specialties and heading down to the nearby markets and delis. What better way to taste some of the local delicacies than having them cooked for you by a professional?
Private chefs know all the best ingredients the UK's many regions have to offer – from the finest Welsh lamb to delightful Cornish clotted cream. Even better, they know how to make them sing on your plate.
6. Make the most of your time
Without having to spend hours in the supermarket, kitchen and washing up, you will have plenty of time to spend with your friends and family on your staycation. Teach the little ones to swim in your private pool or challenge your friends to a game or two on your tennis court, while someone else takes care of all the food and drinks. Our private chefs will even handle the washing up so you can relax after your dinner with a glass of bubbly in the hot tub – perfect!
7. Mark special occasions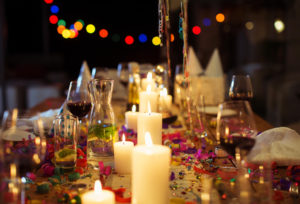 Intimate wedding? Big birthday? Perhaps you're celebrating your anniversary? With a private chef at your home, you can request a romantic meal, your partner's favourite dish or a surprise for the group. Most importantly, they will make your special occasion even more special, combining great food with the privacy and exclusivity of your holiday home.
8. Have a fuss-free dinner
No longer do you have to worry about finding the best local restaurants or stocking up on your little ones' favourite dishes. A private chef can cook your meals on request without having to secure a table in advance. Enjoying a meal at home also means you can wine and dine your friends and loved ones once the kids are tucked up in bed and there's no need to leave someone behind on babysitting duties.
9. Enjoy privacy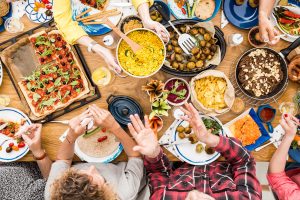 Want to enjoy your meal without the little ones running havoc in the local gastro pub? Or perhaps you simply want to spend some time with your friends without the worry of disturbing others? Not only can you enjoy a delicious meal of your choosing with an in-house chef, but you can eat it from wherever you feel most comfortable. Gather around the dining table with your closest family and friends or eat al fresco if you'd prefer.
10.Learn something new
Whilst most of us would enjoy being able to sit back and relax while the chef takes care of the meal, you can also benefit from learning a thing or two as the meal comes together. Out in a restaurant, you may have the best meal but have no idea how to recreate it. But, when you have the chef in your own kitchen, you can learn the steps and you might even learn a couple of extra cooking tips while you're at it!
Book your staycation with kate & tom's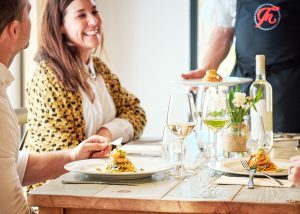 So, now we've got you convinced on why you need a private chef for your next staycation, it's time to book your own private chef. Thankfully, it's never been easier thanks to kate & tom's. As well as offering the best holiday cottages across England and Wales, we've teamed up with the dining experts at DineInDulge to add private chefs to our incredible UK staycations.
Whether you're in need of a special evening meal for one night only or your own private chef for an entire week, we'll make it happen – with all the ingredients, equipment, and of course the cooking, taken care of.
All that's left to do is choose your favourite holiday home from our hand-picked collection. With pools, hot tubs and state-of-the-art games rooms, you'll have plenty to keep you occupied while your private chef cooks up a storm. Email [email protected] to start planning your dream trip.