One of the best things about a staycation is the chance to explore new areas in the comfort of your own car. However, if you have an electric vehicle, you may be wondering if there are facilities available to charge up during your stay. 
In short, there are several holiday cottages throughout England and Wales equipped with EV chargers, so there's no need to worry about range anxiety on your trip. 
Similarly, if you're travelling to the UK from overseas and hiring an electric vehicle, these holiday spots provide an ideal base for your adventures. Read on as we dig a little deeper…
Why a holiday cottage with EV charging is important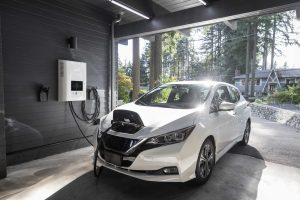 Most people don't think much about where they might fill up a petrol or diesel car on holiday – and the same should apply to electric car drivers. However, while charging up on the go is helpful, you'll still have to wait around 30 minutes at a public charge point for a quick boost. 
So, to make life easier, holiday cottages with dedicated car charging are a handy extra for your stay. You can plug the car in overnight, and in the morning, it's ready to go without the need to top up on a day out. Holiday cottages with electric car charging also typically offer driveway or garage charge points. So, your car is safe and secure while it charges. 
So, do cottages have EV chargers?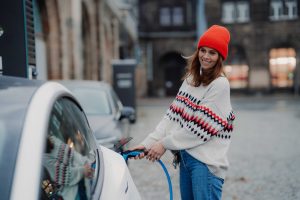 Yes! While it's still in the minority, it is possible to find cottages with EV chargers to make your life a little easier. The rise in electric vehicles on UK roads and the expansion of charging networks are seeing many holiday cottages add this additional facility.
Even better, the number is only going to rise. With the Government's 2030 ban on new petrol and diesel vehicles, electric cars will go from a preference to a necessity over time. It's only natural that more holiday cottages will respond to this demand by installing on-site charging facilities.
How to find holiday cottages with electric car charging?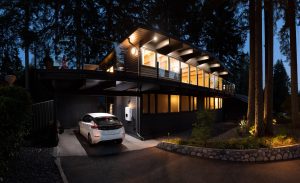 Finding your next holiday cottage complete with EV charging is simple. At kate & tom's, we have a dedicated search category for holiday cottages with electric car charging. So, they're all in one place for you to peruse. You can narrow your search even further by looking at the different location types like coast, country and town.
Most cottages that offer EV charging have universal charging facilities. However, some may have different adaptors, so it's best to check before setting off. 
Wall box charge points are the same charger you have at home. That means they'll recharge your vehicle in a similar time to usual. However, charge times vary depending on your vehicle model. But leaving it overnight will give it that added boost it needs for a day of exploring. 
If you need a fast charge, check the local area for public charge points, as these usually offer a charge of up to 80% in around 30 minutes (charges applicable). 
Tips for going on holiday with an electric car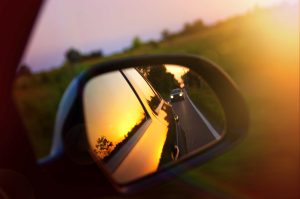 Recharging your car at a holiday cottage with an EV charger couldn't be easier. But there are also a few other things to consider when going on holiday with this type of vehicle…
Remember your charging cables
While most people probably have charging cables safely stowed away, it's important to double-check that you have them in the car for your holiday. Some charge points have cables available. But, most likely, you'll need to plug in your own, depending on the socket available. 
Alternatively, most electric cars come with a conventional socket. So, in an emergency, you have power, although you'll have to wait a lot longer than usual for a top-up. 
Avoid travelling at busy times
While the range of EVs is improving, busy periods could see you sat in traffic or taking longer diversions, which drain your battery faster. 
Even with a petrol or diesel car, it's something to consider. However, with an electric vehicle, it's not as simple as pulling into a service station to top up in a few minutes. 
During busy periods, you could also be queuing for a while to get to the charge points.  
Drive in eco-mode
Many electric cars have different driving modes. This allows you to switch between them to maximise efficiency and range. So, choose eco-mode to optimise your range when travelling to and from your destination. This is handy on long-distance journeys as it modifies certain functions such as acceleration and cruise control. In some cases, it can help you get up to 10% more range (depending on the model).   
Plan your journey in advance
While this sounds obvious, for an electric car driver, planning your journey is often essential – especially if you need to charge on route. 
Most modern electric cars provide over 200 miles of range (depending on the model). But this range also varies according to how fast you go and the road, driving conditions, and so on.
Planning your route in advance is an ideal way to check charging hubs along the way. Plus, it gives you time to schedule breaks with ample time to get to the destination. 
Using apps such as Zap-Map enables you to locate charge points on your travels. Plus, you can see information such as socket type and how much it costs to top up. This makes it super simple to plan your route to any location in the UK. 
Book your next holiday with EV charging with kate & tom's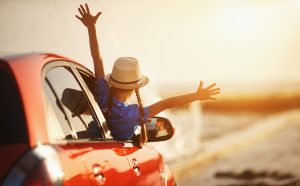 Want to explore beautiful locations across England and Wales without adding to your carbon footprint? kate & tom's are here to help. Our selection of holiday cottages with electric charge points provides a tranquil spot to enjoy a break with family and friends – all while giving you the freedom to explore. 
What's more, you get to choose from a variety of luxury extras, including swimming pools, hot tubs and games rooms in grand settings. Search our collection of cottages with EV chargers and plan your next getaway today.