Ullswater Estate is a truly spectacular property.  Overlooking beautiful Ullswater lake, this 26-acre estate combines the stunning natural beauty of the lake district with two opulent and beautiful buildings.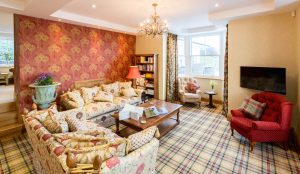 The property is located close to the town of Howtown, on the southern edge of Ullswater lake.  The area is pristine and one of the most beautiful parts of the United Kingdom.  Ullswater estate sits directly adjacent to the crystal clear Ullswater lake and includes half a mile of shoreline for visitors to enjoy.
The views from the estate are breath-taking and feature a hilly landscape surrounding a beautiful natural lake.   The property's 26-acres of private grounds are a joy to explore, featuring a mixture of terraced gardens and lawn dotted with groves of trees.
Ullswater estate is a self-catered property and features two buildings which are available for exclusive hire — Ullswater House and Ullswater Barn.
Ullswater House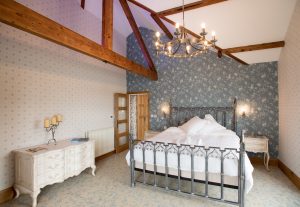 Ullswater House is one of the best luxury accommodation options available in the United Kingdom.  The building has been flawlessly designed and decorated to provide a 5-star accommodation experience that guests will not forget.  The interiors of Ullswater House are very sleek, modern and sophisticated with fine attention to detail.
This building is capable of sleeping up to 12 people in six luxurious bedrooms, all with ensuite bath or shower.  The six spectacularly finished bedrooms are:
Pikeawassa
A huge double bedroom on the north side of the home. Featuring two huge bay windows with comfortable armchairs, this room directly overlooks the lake.  Pikeawassa has a Super King bed, cathedral ceiling, chandelier and huge oak crossbeam.  The ensuite bathroom features a raised designer bath that has views of the lake.
Fusedale
Also on the north side on the building, this bedroom enjoys panoramic views of the lake. The bedroom includes a Super King bed, golden chandelier, cathedral ceiling and luxurious shower room.
Martindale
One of the oldest rooms in the building, Martindale dates back to the 17-Century and features ancient oak beams that reflect its age. This room includes a natural black stone bathroom, lake views, a monsoon and raindrop shower, and Villeroy & Boch bathroom fittings.
Boredale
Another one of the buildings older rooms, it features unparalleled lake views, a balcony and immediate access to Ullswater House's spa. The ensuite features natural stone, a monsoon and raindrop shower and underfloor heating.
Hallin
Hallin is a very quaint and feminine bedroom that features a glass chandelier, rose wallpaper and subdued colours. The natural stone bathroom is gorgeous and includes a monsoon and raindrop shower.
Bonscale
This bedroom has a regal feel about it, with opulent furniture and a stunning floral-decorated carpet. The room's subterranean natural stone bathroom includes a bath tub with lake views, monsoon and raindrop shower.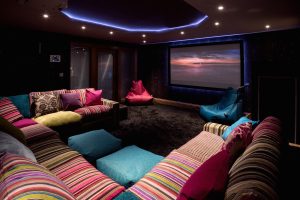 All bedrooms in Ullswater House and Ullswater Barn include boutique quality linen, Brinkhaus Pyrenean duck down pillows, mood lighting and the highest quality Vi-Spring Elite mattresses.
This grand home has much more to offer guests including —
Huge Private Cinema
The private cinema features a huge screen, three comfortable and colourful couches and mood lighting.  Sky Movies & Sports are also available.
Drawing Room and Reading Room
Both rooms are perfectly finished relaxation areas with comfortable seating and tasteful decor.  The perfect spot to enjoy a glass of wine after a day out-and-about, exploring the lake district.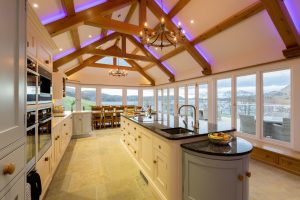 Lakeview Kitchen and Dining Room
Perhaps the most impressive rooms in the Ullswater House, the open plan kitchen and dining room are surrounded by glass, offering a lovely view of the lake.  The kitchen is absolutely beautiful and fully-equipped, featuring two electric ovens, induction hob, microwave, two dishwashers, coffee machine, fridge and freezer, salad drawers, warming drawers, wine storage, instant tap hot water and food waste disposal units.  The dining room features a huge timber 12-person dining table.
If you prefer not to cook, there are drop-off meals and online deliveries available or you could try one of the high-quality restaurants nearby.

Spa and Wellness Centre
The ultimate place to relax!  The spa features a hot tub with mood lighting and waterfall, infinity terrace for yoga or star gazing, and a holistic laconium with aromatherapy.
 Terraces and BBQ Area
Ullswater House includes a huge terraced area and outdoor BBQ — the perfect space for outdoor entertaining.
Dog Friendly Room
Ullswater House also includes space for your four-legged friends in the boot room.  It is a large space with underfloor heating to make them comfortable during their stay.
Ullswater Barn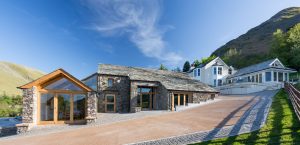 Ullswater Barn is a 17th-Century building that has been converted into luxury accommodation.  It has been designed to make the most of the glorious views down to the lake and features opulently designed interiors.
Ullswater Barn sleeps 8 people in 4 bedrooms:
Cockpit
This quirky and interesting bedroom dates back to the 17th-Century. It features exposed beams, flora wallpaper, cathedral ceilings and lake views.  The natural stone ensuite shower room has underfloor heating and Villeroy & Boch bathroom fittings.
Loadpot
A light and airy bedroom that features the colour blue in the wallpaper and carpet. This bedroom is just a few metres to the lake's edge.  The natural stone ensuite shower room is beautiful and features a monsoon and raindrop shower.
Butterwick
This bedroom is close to the huge oak beams that hold the structure of Ullswater Barn together — an impressive sight! The room is decorated with cream and yellow colours to make a warm, cosy and inviting space.  The bathroom is very modern, featuring light-coloured natural stone and a Monsoon and raindrop shower.
Ravenhowe
A large bedroom that opens up onto a terrace on the ground floor, it features a quirky design with plaid carpet and golden wallpaper. Its high ceiling and huge oak beam are very impressive features in the room.  The ensuite shower uses dark natural stone for an impressive look.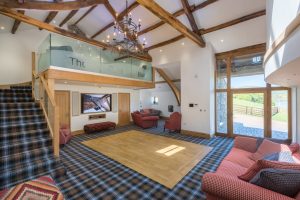 Ullswater Barn has a huge, double-height open plan living area consisting of three spaces — the Lake room, the Loft and the Snug.  There is plenty of seating in these three space to accommodate all of the guests in the home.
The space-age kitchen is very technologically advanced and beautifully appointed.  It features curves throughout and a very clean design aesthetic.  It is jam packed with features including an electric oven and hob, microwave, dishwasher, fridge and freezer, kettle tap and a waste disposal facility.
The Lake View Dining Room has two large patio doors that open up to the lake, giving diners spectacular views.  The space features a great deal of timber, with oak floors, joists, arches and furniture on display.  An absolutely stunning location to enjoy a meal.
Things to Do
There are dozens of activities to enjoy on the property and in the local area.  Here are just a few:
Hiking local trails
Bike riding
Canoeing or swimming the lake.
Fishing
Horse Riding
Beauty treatments at the house between 4-6pm
Go Ape
Glenridding Activity Centre
Aira Force Falls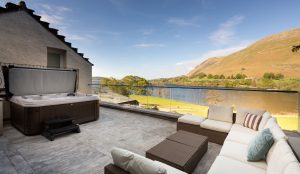 Whether you are simply enjoying a weekend away with the family or you are planning a special event, Ullswater Estate is a fantastic luxury accommodation option in a beautiful part of the world.
To find out more about Ullswater Estate head over to our dedicated Ullswater Estate section.