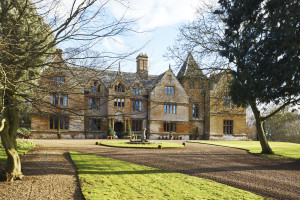 Situated in a lovely part of Northamptonshire, Mears Ashby Hall is a stunning Grade II listed country house available for event hire and holiday accommodation.  The home has a very grand facade, designed in the Jacobean style with Victorian extensions.  It is located a short stroll from the local village of Mears Ashby and is situated in 11-acres of beautifully manicured gardens.
The estate is just 48-minutes from London, which makes it an ideal countryside getaway for people coming from the city.  It is a peaceful place, where the only sounds you hear are the trees rustling, the water lapping in the lake and the occasional bird.
The first thing you notice when driving into the estate is the impressive architectural features of the building and the immaculate gardens.  It is a romantic location that is an ideal accommodation option for weddings, corporate retreats, anniversaries and family get-togethers.
Mears Ashby Hall is a substantial building that has dozens of rooms and areas to explore including the entrance hall, drawing room, Griffin hall, conservatory, studio, study, rear hall, cellars, sitting room and library.  The interiors are very luxurious and look like they belong in the pages of an interior design magazine.  The design style is somewhere between rustic chic and classical elegance — interiors are warm and welcoming spaces that are full of character.
This home is capable of sleeping up to 18 people, in nine separate bedrooms, three of which have an en-suite bath or shower.  The bedrooms are elegantly furnished in a classical, country home style.  They feature period furniture, lustrous wallpapers and curtains, thick rugs and comfortable soft furnishings.  The bath en-suites have clawfoot tubs and all en-suites are gorgeously finished.  In addition to the three en-suites, the building has two huge family bathrooms and a downstairs WC.
Mears Ashby Hall is the perfect location for a dinner party!  The huge dining room table in the main hall can seat 20, while an adjoining room can seat another 14.  The huge country kitchen is a foodies dream.  It is a beautiful space that is filled high quality appliances including a huge 5-oven Aga, six ring gas hob, huge refrigerator and Gaggia coffee machine.  For foodies who love to cook outside, there is a gas BBQ, fire pit and outdoor paella maker.
If you prefer to have someone do the cooking for you, some top class chefs are available to prepare special meals or to provide all catering.  There are also some great restaurants and eateries nearby including the Beckworth Emporium, The Swan at Lamport, and The White Horse pub.
Nearby Activities and Things To Do
Mears Ashby Hall is located in a beautiful part of the world, with plenty of activities available in the estate and nearby.  Inside the home, there are multiple flat screen TVs with Sky, DVD players, a nightclub room with Sonos sound system and bar, a PlayStation 4, a huge library full of books, a selection of board games, Wi-Fi Internet and iPod docks.
Outside the home, you have 11-acres of stunning gardens and parkland to explore — sure to keep the kids busy!  Contained within those 11-acres is a small lake with boat, tennis court, football nets, basketball net, trampoline and hot tub.  There is also a games barn filled with activities including a table tennis table, table football, air hockey and a darts board.
If you venture out from the estate, you will find plenty of exciting activities for visitors of all ages.  One of the highlights is the Silverstone motor racing circuit.  It is located a short drive from Mears Ashby Hall and features some of the best racing in the United Kingdom.  The British Grand Prix will be held at Silverstone between 08 Jul – 10 Jul 2016 and is the perfect time to visit the local area!
There are country pursuits available including clay pigeon shooting on the grounds and game shooting nearby.  You might also enjoy some horse riding, cycling or hiking at Pitsford reservoir.  If you prefer a more relaxed getaway, pampering and beauty treatments are available at the house.
Other local sites to visit include Beckworth Emporium, Castle Ashby, Woburn Abbey and Althorp.  The kids would love a day out at Bugtopia or     Jungle Parc, which are both a short drive away.
Mears Ashby Hall is a stunning building located in the perfect location.  It is a truly memorable accommodation option perfect for many types of events and is highly recommended!
If you would like to read more about this stunning property head over to our Mears Ashby Hall page or give us a call on 01242 235151.