Planning a holiday in the UK can be stressful for a number of reasons. Choosing the right location, the best cottage for you, the perfect amenities and the dates can be tricky to meet everyone's needs. That's even more challenging if you or one of your guests has special requirements because of a disability.
Thankfully, we're here to make things a little easier. In this post, we'll look at nine must-have features and facilities for disabled-friendly holiday cottages in the UK…
Ground floor bedrooms
Having everything you need on the ground floor of your cottage is essential if you cannot get up and down stairs or find it challenging. Not only do you have your kitchen, living space, bathroom and dining space on the ground floor, but your bedroom is also within reach. And with stunning views and scenery from every kate & tom's holiday cottage, you can fall asleep watching the waves through your window or gazing at the stars.
2. Landscaped gardens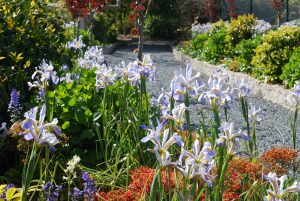 Whilst the UK may not be known for its weather, we have plenty of gloriously sunny days throughout the year and when the rain holds off we all enjoy some fresh air and exploring our nearby surroundings. If you struggle to get around unaided or use a wheelchair, a large open landscaped garden is perfect for getting that much-needed fresh air. Look for wide paths, flat ground and a garden free from steps for a relaxing and care-free getaway for you and your loved ones.
3. Disabled toilet facilities
The last thing you want when you're heading on your holiday is to struggle getting into the bathroom, shower or toilet. For disabled-friendly holiday cottages, you need to have low baths, standing showers with a seat and hand rails for the user to navigate. Ideally, you should also have a string light switch rather than a classic wall switch to allow easy access.
4. Indoor pool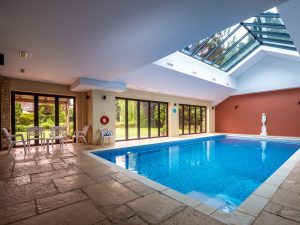 Many holiday cottages in the UK come with an indoor or outdoor pool, but a number of these are accessed by steps or are at the bottom of the garden with stairs to access that portion of the garden. An indoor pool with varied depths is great to accommodate to a range of additional needs and access requirements. And with a swimming pool often comes changing facilities or pre- and post-pool showers, which also need to be easily accessible with easy-to-reach nozzles and temperature controls.
5. Wide doors
Many traditional front and internal doors simply don't accommodate the extra width requirements of wheelchair users. The average door width and wheelchair width in the UK are very similar, meaning you cannot get in and out with ease. A wheelchair-friendly holiday cottage will need to have wider doors, both inside the cottage and the front and back doors.
6. Private chefs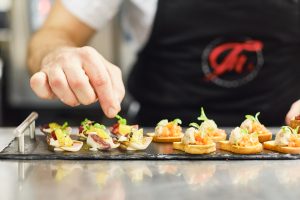 Some disabilities can be difficult to care for, with day-to-day tasks or just trips out taking up a lot of your time. Having a private chef on hand to take cooking off the list can make things a whole lot easier.
Booked through our partners at DineInDulge, private chefs bring all the necessary ingredients, cook, serve and even clean up afterwards! With meals taken care of – to the highest standards – you can simply relax and enjoy the luxury facilities at your disabled-friendly holiday cottage.
7. Easy access
A number of holiday cottages in the UK are located in the most beautiful locations, with the coast at the bottom of your garden or overlooking stunning rolling hills. We want to make sure everyone on your guest list can enjoy all the added features of your holiday home.
Whether you're headed to the coast or the country, your cottage for disabled holidays needs to have easy access to the beach or countryside surroundings, with paved paths and handrails. And the same goes for getting in and out of your own garden, with proper facilities in place to make your outdoor space accessible.
8. Dedicated parking
When booking a cottage for disabled holidays, it's important to look out for dedicated parking spaces near the front door. After all you don't want to be lugging your cases up the driveway when you arrive. Having your car just a few steps from your front door makes day trips, heading to the supermarket and arriving and leaving the cottage that little bit easier for everyone.
9. Plenty to do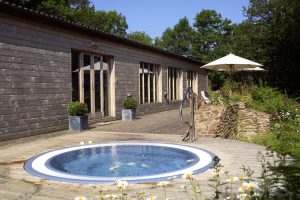 When it comes to keeping everyone happy, disabled holidays are no different to any other getaway. The best way to make the most of your time is with a feature-rich holiday cottage that has everything you want and need in one place. Games rooms, cinema rooms and hot tubs are all available in the UK's most stunning disabled-friendly holiday cottages. While they might not be 'essential', we still think they're a must-have if you want to have a truly unforgettable holiday!
Book your disabled-friendly holiday cottage
At kate & tom's, we're dedicated to providing unforgettable holiday experiences in the most stunning UK locations. That's why we've hand-picked the most incredible disabled-friendly holiday cottages with the must-have features discussed above.
Ground floor bedrooms, large en-suites and disabled access throughout – all paired with luxury facilities like pools, hot tubs and picturesque gardens. Whatever your requirements, we're on hand to help. If you have any questions about our holiday homes, don't hesitate to get in touch on [email protected]