Winter is the most wonderful time of the year. Crisp winter mornings, frost on the trees and those cosy evenings by the fire. What better time to visit some of the UK's most beautiful places?
Whether you're hoping for snow as you look out onto wintry landscapes or just want to enjoy the most popular spots without the summer crowds, our guide is here to help. Read on for six of the best places to visit in the UK in winter…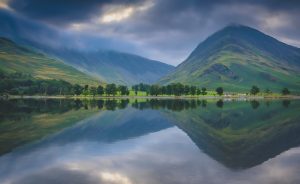 The Lake District is no stranger to being in the top spot for UK holidays. But, in winter, there's a magical feel to the atmosphere. During this season, it's naturally quieter than in summer, which makes for a tranquil stay. Head out for hikes on its miles of pathways and trails with stunning views along the way – but there's more…
In December, there are a variety of events to enjoy in the run-up to Christmas. The Father Christmas Tea Party and Santa Saves Christmas show run by The World of Beatrix Potter are popular attractions for families. Plus, Muncaster Castle, Tullie House and the Lakeside & Haverthwaite Railway are also running festivities. In February, Keswick is home to the annual film festival. Plus, Great Broughton plays hosts to the Punch Bowl Beer Festival for a taste of local ales.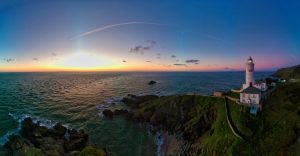 The variety of destinations in Devon makes it a perfect UK place to visit in winter. It boasts not one but two coastlines. Plus, you get two National Parks with spectacular scenery as far as the eye can see. 
Exmoor is a top spot to enjoy crisp winter walks and admire the park's wild ponies. The national park also joins the North Devon coastline. Here, the pretty villages of Lynton and Lynmouth have a backdrop of luscious emerald woodland and rocky walking routes alongside quaint shops and eateries overlooking the sea. 
At the heart of Devon, the city of Exeter is the top winter city break. The annual Christmas markets bring people from far and wide. The cathedral also delights with festive cheer and carol services.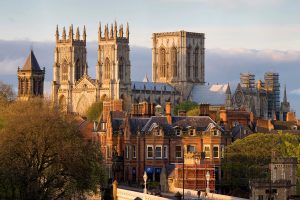 Yorkshire is often said to be one of the most beautiful places in the UK in winter, and it's not hard to see why. Not only does it have stunning landscapes that look outstanding in a flurry of snow, but the medieval city of York also has a magical feel in the frosty air. 
If fancy a frost walk, the North York Moors offers breathtaking landscapes with miles of pathways to explore. Aysgarth Falls in the Yorkshire Dales is also a spectacular wintry sight. Don't forget to wrap up warm when you're heading out, especially along the Yorkshire coastline, as the wind can be rather bracing. 
Heading to York provides you with an array of boutique shops and medieval streets winding throughout. The Shambles is a must-see and the perfect spot for a hot chocolate in a cosy café. Plus, visiting the annual Christmas market is a favourite for lovers of food and drink.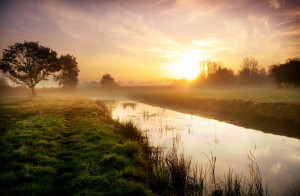 While nature typically retreats for the winter months, Norfolk sees its mudflats and marshes come alive in the cooler months. Nature lovers flock to the area (pun intended!) to see a haven of birds, particularly pink-footed geese that have made the region their home for the season after migrating from Iceland and Greenland. Another delight for visitors is the arrival of grey seal pups. Of course, the best way to see them is via boat. So, head to Morston Quay for a unique and memorable experience. 
Cromer is another top place to visit in winter if you're eager to get a taste of a traditional UK seaside location. Its pier is home to the Pavilion Theatre, which has a variety of events and shows throughout the year. This winter, catch the Cromer Christmas Show alongside music and comedy events.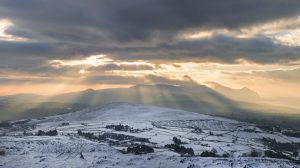 Another top place to visit in winter is Wales. The country really has everything to suit all ages and preferences. The snow-capped peak of Snowdonia is a must-see for anyone that loves hiking. You can also take the train, so it's ideal for those that want to see a spectacular view over the landscape without actually making the climb. 
Fans of literature are welcomed to a special festival in Hay-on-Wye in November. The newly converted Hay Castle hosts the Hay Festival Winter Weekend, and you can immerse yourself in a full programme of workshops, talks and screenings. The Christmas light switch on is also open to everyone. 
In March, the whole of Wales comes alive with festivities and events for the celebration of St David's Day. Many locations have parades, concerts and festivals, including beautiful spots such as Colwyn Bay, Carmarthen and Aberystwyth. So, don your daffodil and join in with the cultural celebrations on your stay.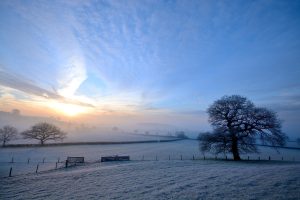 When the villages of the Cotswolds get a dusting of snow during the winter, it really is a sight to behold. The honey-coloured cottages and picturesque heritage sites dotted throughout the landscape make it the perfect setting to cosy up with family and friends. 
A draw to the area during the festive period is Blenheim Palace in Oxfordshire. This vast country estate twinkles throughout December with its illuminated trail around the grounds and woodland. A laser show and spectacular Tunnel of Light display with over 100,000 bulbs also light up the dark skies. So, grab a mulled wine and wander this beautiful display to get you in the festive spirit. 
Book a luxury winter break with kate & tom's 
Who says winter escapes need to be anything other than luxurious? With roaring log fires, warming hot tubs and plush living spaces, you can see the most beautiful UK places in style this winter with kate & tom's selection of cosy cottages. Browse our collection to start making wintertime memories with your loved ones and email [email protected] if you need any help planning your getaway.