Planning a stag do for the guys and need some inspiration to make it a memorable experience before he says 'I do'? Stag do houses with a games room are the perfect option! 
Booking a getaway before the nuptials is a great way to get everyone together and celebrate in style. What's more, when you have everything you need under one roof, organising the best games and experiences is simple. Love playing pool or want to battle it out on the latest games console? There's something for everyone. 
These fantastic entertainment options offer endless hours of fun and laughter. So, it's no surprise they're a big hit for a stag do holiday. Sound about right? Read on as we discuss what to expect from a games room, the advantages of having one, and a few ideas for your upcoming stag do.
What do you get in a games room?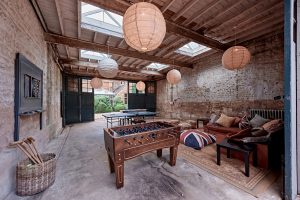 Games rooms in stag do houses offer a mix of activities to enjoy. To start with, you can expect anything from a dedicated space within the house to a separate annex full to the brim with games to play. 
It's entertainment at its best, with dedicated spots for pool tables, table tennis and even air hockey. You could also challenge your mates to a game of table football surrounded by lavish interiors and an indoor drinks area. 
Games rooms are a great place to kick back and relax too. Big, comfy sofas make space for everyone to chill out. Or create teams and battle it out over the latest console games. 
Choosing a stag do house with a games room offers a host of things to do during your stay. To make sure everyone's happy, check if there are any specific features your group would prefer. That way, you can pick based on their preferences and make sure everyone's happy.  
Benefits of a stag do house with a games room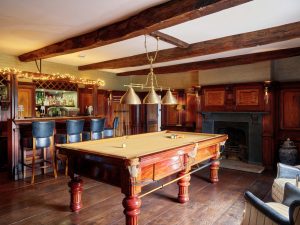 Fun and entertainment 
Overall the major draw for choosing a games room is the fun it brings to the stag do. Challenging your friends to a pool match or getting teams together for various games provides hours of laughs and memories. What's more, you could also add your own twist to a games room tournament with prizes or forfeits for the winners and losers. 
Unique experience 
Want to arrange a stag do with a unique angle? Booking a stag do cottage with a games room is an ideal choice. There are many clichés for this type of event. But if you want to add something different and unexpected, games rooms provide that alternative. 
Place to relax 
While stag dos can be a hive of entertainment and excitement, you also need some downtime to recover from those hangovers. Games rooms provide some welcome relief. Chill out in front of the TV and play games on the console or take your mind off the headache with a round of air hockey. These rooms really do offer the best of both worlds. 
Ideal socialising spot
With busy schedules and friends living in different parts of the country, getting together may be a once-in-a-while event. Booking a stag do house maximises this time together and gives you space to socialise. The addition of a games room also opens the house up to areas for chatting and catching up with mates in a relaxed atmosphere. 
Ideas to make your games room experience memorable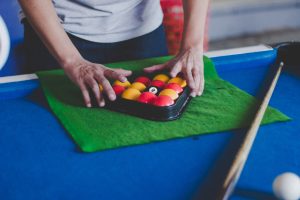 The beauty of a games room is that you can choose the type of activities you want before you book. Pick a cottage with a pool table if you fancy challenging your friends to a pool tournament. Or maybe your mates are gamers and love nothing better than battling it out to the latest console releases. 
Whatever you like doing for fun, it's made possible with a games room. Some of the top ideas include:
Pool tournament

Snooker

Air hockey 

Darts

Team console games

Board games

Cards (poker, anyone?)

Football table tournament

Table tennis

And, of course, a few drinking games 
Other features perfect for a stag do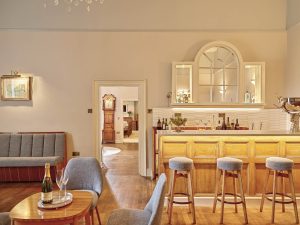 Games rooms aren't the only great things about choosing a large luxury cottage for your stag do – there are tons of other fun features to complement your stay. Let's start with the private bar – a must for any stag party. Let the drinks flow and turn up the music in your own exclusive bar. In many cases, these will be situated right by the games room for the ultimate party experience.
If you want a competitive edge for your stag's time away, why not opt for a stag do house with a tennis court? Several cottages have large private tennis courts to try your hand at one of the UK's most loved summer sports. Play a tournament with everyone or double up for some rivalry between teams. 
Alternatively, you can take the activities outside in the gardens. Most luxury holiday houses come with ample outdoor space for games like football or rounders – or just relaxing in the sun with a few cold drinks.
Book a stag do house with a games room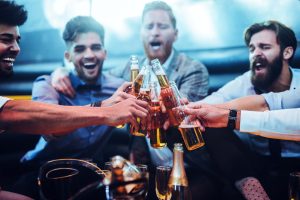 Stag dos are an exciting event to plan, and what better way to celebrate than by booking a luxury holiday cottage for all your mates. At kate & tom's, we have a variety of holiday homes packed with everything you could need for an unforgettable party.
Choosing a house with a games room makes activities even more memorable and easy to organise. While fun, excitement and competition are on the cards, there's also the option to kick back and relax in beautiful settings away from the humdrum of everyday life. What's not to love!
Our hand-picked selection of stag do houses with games rooms, hot tubs and swimming pools will give you plenty of inspiration. Rest assured, they sleep 10, 20, 30, or 40+ people, so no one is left out.
Ready to find the perfect stag do house? Browse our collection and contact us at [email protected] to book your break.