If you are looking for a tranquil and relaxing location for your next holiday or weekend getaway, Ridgeway House is the perfect destination. Located in rural Lambourn, this beautiful cottage has been designed to place an emphasis on the calm and picturesque natural environment surrounding it.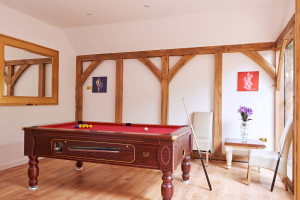 Sleeping up to 16 people, it is an ideal destination for a family getaway, corporate event or hen party. The property offers a number of indoor and outdoor activities including a hot tub, pool table and entertainment system. It offers guests the chance to get away from the hustle and bustle of city life while still enjoying a luxurious accommodation experience.
Ridgeway House is a brick cottage that has the appearance of a working farmhouse, surrounded by pastures and lush greenery. The sleek interiors are tastefully decorated and have all of the modern conveniences you may require.
Stepping into the building, guests will be impressed by the large windows that bathe the interiors in light. Huge oak beams frame the rooms, ensuring that visitors are well aware of the rural environment in which this building sits. The rooms feel like a modern designer has renovated a beautiful farm house and combined the best of both worlds.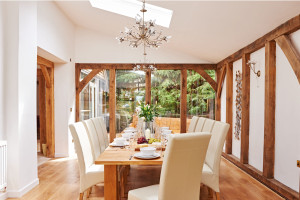 Designed for Entertaining

Perhaps the most impressive room in the building, the dining room has huge floor to ceiling windows and patio doors that give immediate access to the gardens. With large oak beams, skylights, cream walls, beautiful light fittings and modern furniture the room exudes class — the perfect environment for a memorable dinner party. The huge oak dining table can accommodate 14 guests in total, with additional seating on the patio.
The dining room is attached to a modern kitchen with all of the modern conveniences that a budding chef might require: Flavel range cooker with four door oven and hob, microwave, kitchen utensils and modern appliances. There is also an outdoor coal BBQ and seating for alfresco dining. Enjoying the beautifully manicured gardens while having a white wine and BBQ dinner is a fantastic way to spend an evening. After dinner you can also enjoy a dip in the outdoor hot tub!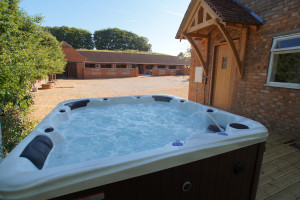 If you prefer to have someone else do the cooking, a chef is available for hire. The chef can prepare a single meal or cater an entire weekend. Drop-off meals are also available and there are some outstanding restaurants within a short drive.
There are five king-sized bedrooms in total, two of which have an ensuite bath or shower. One bedroom is downstairs, with the remainder upstairs. All beds are zip-and-link and can be setup as kingsize doubles or twin beds — capable of sleeping up to 16 people.
The bedrooms are all bright and airy, featuring plush soft furnishings and high quality linen. The colour scheme features some pastel walls with flourishes of timber to remind you of the building's heritage.
The large lounge room has three huge sofas and a modern entertainment system with flat screen television, iPod dock and DVD player. The games room is just a few steps away and has a full sized pool table for guests to enjoy. There are also some options for the kids with toys, books and DVDs.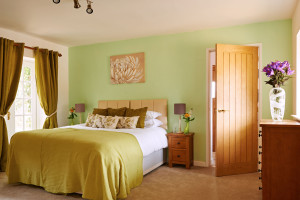 Nearby Attractions

Lambourn is well-located in the heart of the Berkshire chalk downs, ideal for visitors interested in exploring the local area. The village of Lambourn has retained its village feel and has a number of colourful shops worth visiting.
There are also a number of fantastic dining options within a short drive including:
• The Pheasant Inn in Hungerford, offering hearty English pub food and quality ale
• The Bell at Boxford, which has a delicious menu including seafood and rib-eye steak
• Harrow at Little Bedwyn's, a Michelin starred restaurant that offers an outstanding fine-dining experience
Other nearby attractions include:
• The Roves Farm, which features a tea room, petting zoo, pony rides, toddler activities, fresh local produce and much more.
• Highclere Castle is where the popular television series Downton Abbey is filmed
• Hungerford Arcade, an award-winning Antiques centre which includes over 100 antiques dealers
• Northcroft Leisure Centre, which offers a 25m indoor swimming, 72m outdoor swimming pool, gym, squash courts, sauna, cycling studio and fitness studio
• Lambourn gallops — there are always dozens of horses practising on the gallops at Lambourn. A fantastic outing for horse lovers
• Kennet Horse Boat Company offers a leisurely boat trip down some beautiful canals on a horse-drawn barge.
• The Living Rainforest, an indoor tropical rain forest with hundreds of species of plants and animals
• Fishing shooting, boating, hiking, horse riding and many more activities are available nearby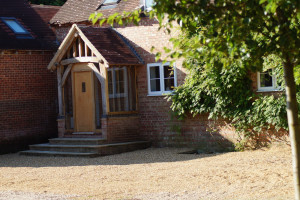 Ridgeway House presents a fantastic holiday destination where guests can unwind and relax in a beautiful environment. The perfect location for your next getaway!
More information about this stunning property can be found on our Ridgeway House page.