Whether it's a summer holiday or a winter escape, nothing beats getting away with your family and friends on the British coast or countryside. For some people, that includes their four-legged family members or furry friends. The people who always want to go out for a walk, whatever the weather. We're talking, of course, about dogs!
So, let's take a moment to look at what you should be looking out for in your staycation cottages when it comes to holidaying with your pup. Oh, and before we start, let's not forget – just because it's dog friendly doesn't mean you can't still enjoy all of the luxuries that you deserve on your break!
So, sit back, relax and let's take a look at some of the most noteworthy things you should take into account when booking yourself and your pooch a holiday this year.
The all-important walkies!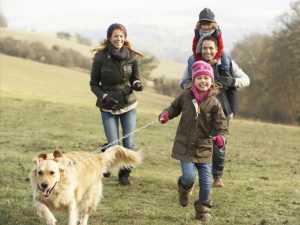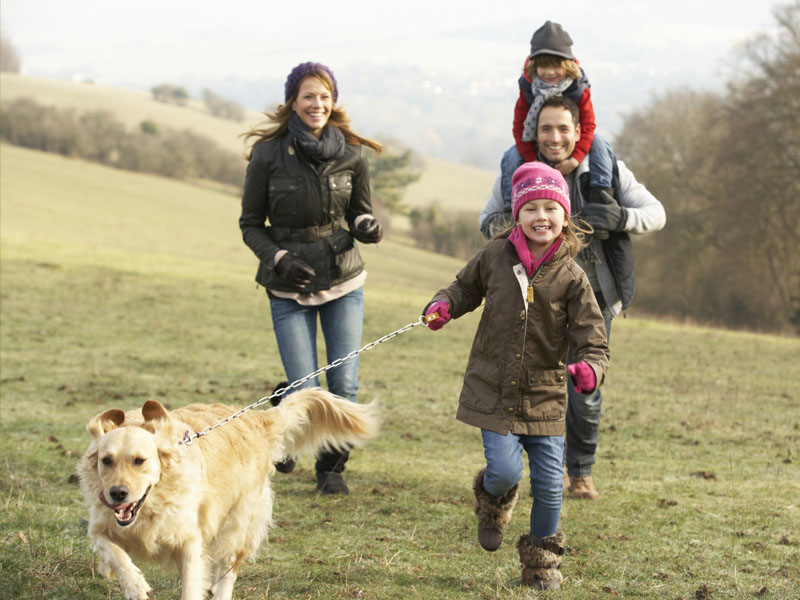 It's fairly safe to assume that everyone loves the smells and sounds of nature around them. Warm earth that's soaking up the British drizzle, flowers in the height of their fragrant bloom and the sound of robins tweeting in their trees dotting from branch to branch.
Well, imagine being a dog, their sense of smell can reportedly be up to 1,000,000 times stronger than ours. By getting out into the British countryside, you can give them a smorgasbord of olfactory sensations paired with plenty of room to stretch their legs and incredible views.
That's why location should always come into consideration when thinking about your dog's needs. So, give yourself the best chance for fun and luxury by looking into cottages and homes in some of the UK's most remarkable walking regions like the Cotswolds, Lake District and Wales.
Proximity to the beach
We all love a walk in the countryside, but a dip in the sea is almost unrivalled. Lots of dogs like a swim or just a cooling paddle. If that sounds like your pooch, a coastal cottage is a must-have.
Walk along the golden sands of Salcombe and absorb the breath-taking views that rival the Mediterranean whilst giving your dog the extra excitement of chasing waves, running around and cooling off before heading back to your personal pool or hot tub.
The beach also provides a perfect environment for stress-free dog exercise for those days where you just feel like relaxing. Simply bring a ball or a branch to throw and they'll be entertained for hours while you lounge in the sunshine of your back garden beach.
A garden to run around in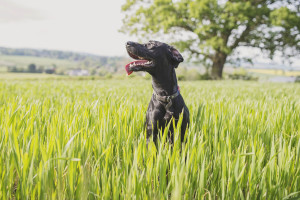 After a day of adventurous excursions for owners, an enclosed back garden is exactly what's needed for your pup. Large, landscaped gardens with enclosed areas mean that, even if you've been for a long walk and your beloved pet still has enough energy to tire out an Olympic runner, you can let them off the leash to be free and wild in the beautiful back garden of your holiday cottage.
Keeping both you and your pup safe should be paramount to responsible pet owners. With that in mind, you should look for a holiday cottage that has plenty of outdoor space – but most importantly, that it's enclosed. With impressive back gardens that have acres of running room, you can ensure you're both on track to holiday bliss, with no worries about the security of your beloved pets.
Enough room for everyone to lay their head
Yes, it's easy to focus on a man's best friend, but don't forget about all your guests with two legs!
Make sure that, as well as being dog friendly, the holiday cottage you choose has plenty of room for everyone. Don't limit yourself to a small cottage if you've been dreaming about getting away with the whole family. You can find plenty of large holiday homes to treat yourself to with pillowy king-size beds and enough room for the whole family (and their dogs) to come and unwind in.
After all, nobody wants to miss out on what could be a life-changing holiday. With kate & tom's, you can find a place that has enough room to house up to 40 people at one time. Search by size to find the perfect place for you and your family this holiday season.
Great facilities for you – the holidaymaker!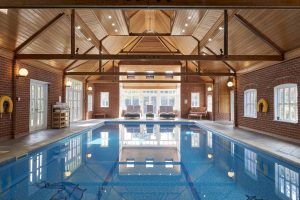 Just because your holiday is dog-friendly, it doesn't mean you have to give up on expecting the best. Dog-friendly cottages with a hot tub provide a great way to relax and unwind after an extra-long walk with the pooch. After all, those walkies will tire out your legs as well as theirs! Or cool off with a dip in your own private pool.
One of the best things about dog-friendly holidays, hot tubs aside, is that kids love spending time with their four-legged friends. If you're getting away with the children, a games rooms is the perfect way to keep them occupied while you're prepping meals or enjoy the other facilities. Just because your dog doesn't use them, it doesn't mean they're not important!
Book your dog-friendly holiday cottage
Whether you're looking for dog-friendly cottages with hot tubs or just somewhere for you and your pooch to enjoy England and Wales' best destinations for a game of fetch, kate & tom's has it all. We've picked out a selection of dog-friendly holiday homes that well and truly tick every box.
Large, enclosed gardens. Costal and countryside locations. Room for all your friends and family. And incredible facilities for you and your guests to enjoy. Take a look at our dog-friendly cottages today, and don't hesitate to contact us at [email protected] if you have any questions.