When you head off on a luxury escape, you want every single aspect of your holiday to be not just outstanding – but truly unforgettable. Our luxury holiday homes tick most of the boxes, with beautiful surroundings, charming living spaces and incredible facilities.
But what about the food? You could cook up a storm using delectable local ingredients in your state-of-the-art kitchen. Or book a private chef with DineInDulge and let them do it all for you. Thanks to our new partnership with Côte at Home, there's a third option – ordering the taste of France directly to your front door. 
Introducing Côte at Home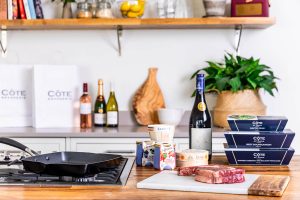 Côte at Home is a unique culinary experience provided by the Côte Brasserie group. Having established over 90 restaurants, Côte are now offering their gastronomic wonders to homes across the UK mainland.
Customers can choose from a vast array of products, including:
Starters

Mains

Sides

Desserts

Breakfast

Butchery

Cheese and dairy

Bakery

Cellar

Gift boxes

Luxury collections
At kate & tom's, we thought this would be the perfect complement to a luxury holiday in one of England and Wales' most sought-after locations. That's why we've partnered with Côte at Home to allow deliveries directly to your holiday home during your stay – with the small exception of our Isle of Wight houses.
How it works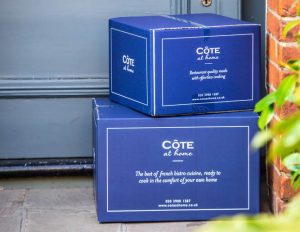 With Côte at Home, it couldn't be simpler to get delectable food on your UK holiday. Once you've made your booking with kate & tom's, we'll be in touch with a link to make an order with Côte at Home. You can then browse their various ranges online with a minimum order of just £40.
Select a delivery date at the checkout, which needs to be at least 48 hours after your order is placed. Then your food will be delivered by 12 noon on your chosen date. You'll receive an email with a two-hour slot, so you don't have to stay in or wait around any longer than necessary for your food.
Food will be delivered chilled to your door, ready to eat or cook. All meals arrive pre-prepared, so you simply need to pop them in the microwave or oven to heat them up. Whatever the case, you'll receive all the necessary instructions for cooking, storage or even freezing if required.
Making your holiday even better
An old Irish proverb states that "laughter is brightest where food is best" – and we couldn't agree more. Having a luxury food box delivered while you're on holiday can make your experience even better, in more ways than one…
Enjoy the best food for any meal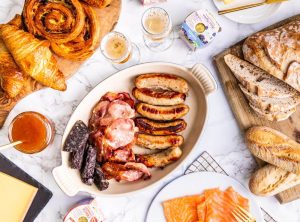 First and foremost, you can enjoy the best food at every opportunity. No luxury holiday is complete without incredible food at breakfast, lunch, dinner – or all three!
Enjoy a continental banquet by the pool, order a luxury weekend breakfast box for the ultimate cooked breakfast, or choose from traditional French breads, meats and cheeses to make lunch that bit more special.
Then gather the whole family around your spacious dining table as you serve up a three-course feast. Lobster, duck confit, or a roasted rump of lamb – the choice is yours.
Make the most of every minute of your holiday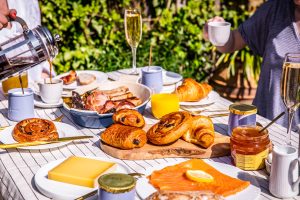 Indulging in mouth-watering food doesn't have to mean spending hours in the kitchen preparing and cooking each dish.
Normally, you would have to plan ahead and make a trip to the shops for all your ingredients – followed by a couple more when you realise what you've forgotten. Then there's at least an hour of preparation, peeling, chopping and mixing ingredients. That's all topped off with the final stressful bout of cooking everything and serving it up at the same time.
With Côte at Home, everything is delivered pre-prepared so you only need to spend a few minutes of your time 'cooking'. That means less time away from the unforgettable holiday you've been looking forward to for the past year or more.
Instead, you can take a dip in the pool, relax in the hot tub, or enjoy some quality time with the kids in the games room. Let's face it, nobody is going to regret spending more time with their loved ones on a luxury escape.
Enjoy it from the comfort of your luxury home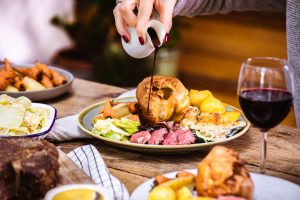 The best bit about Côte at Home? It's at home. As much as we all love glitzy nights out and fancy restaurants, there's something special about enjoying a delicious meal in the comfort of your home from home. That's especially true when you've booked a luxury holiday home that's complete with a beautiful dining room and a long list of other amazing features.
Having restaurant-quality food delivered to your home can also make life a whole lot easier when you've got children. Even if your kids prefer the finer things in life, they don't always want to sit still in a restaurant for the duration of a three-course meal.
With Côte at Home, you can let them run free once the all-important veggies have been polished off. The little ones can continue making the most of the garden or games room while the adults enjoy the rest of the evening – and another glass of wine.
Pair a luxury holiday home with fine dining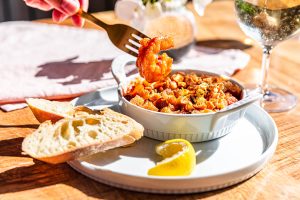 At kate & tom's, we're passionate about providing the most luxurious holiday experiences to each and every one of our guests. That's why we're delighted to be working with Côte at Home to deliver freshly prepared, high-quality bistro meals directly to your door.
If you would like to add a Côte at Home order to an existing booking or just want to start planning your own escape with fine dining included, simply contact our team on [email protected] and we'll make it happen.