While it may not be at the top of your must-have list, there are many reasons why a games room can transform your UK holiday. It's an added luxury that you may not know you needed until you have it there, and the perfect pastime for all ages, which gave give even the rainiest days a boost.
With the popular pool and snooker tables, air hockey set ups and darts boards in abundance, you can hone your potting skills and perfect your double-top checkout. But it's not just the classic bar games that are covered. You can also spend hours enjoying the latest games consoles and classic board games. 
Whether you're more of a video gamers or Monopoly is your go-to, there are plenty of holidays that call for a games room. Read on to discover 7 types of holiday that need a games room…
1. Holidays with children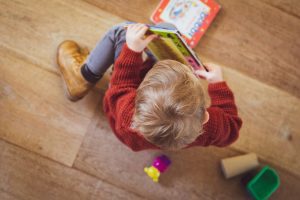 It goes without saying that the most popular holidays with a games are those with the little ones. Whether you're headed on a half-term treat getaway or your annual summer holiday, keeping the kids entertained for a week, weekend or just a few hours while you wind down, can sometimes be tricky. But with a games room in your holiday cottage, even the fussiest of the group will find something to keep them happy.
Whilst the adults enjoy the other added luxuries, with a dip in the hot tub or a couple of lengths in the pool, the kids can entertain themselves with Super Mario, air hockey or Jenga! From rainy days stuck indoors to quiet nights in with a takeaway and glass of wine, a games room gives the little ones somewhere to escape to whilst the bigger members of the group relax and unwind.
2. Family holidays
A UK staycation is the perfect opportunity to gather your whole family together for some much-needed quality time. Whether you're a small family unit or choosing a cottage sleeping 40 or more, having all your loved ones under one roof gives plenty of chances to catch up.
One of the best spots for a fun-filled evening with the family is in your own private games room. Test your knowledge with a group game of Trivial Pursuit, practice your throw with round-the-world darts and break a sweat with an energetic game on the Nintendo Wii. We're not sure who will love the games room more, you or the kids!
3. Stag weekends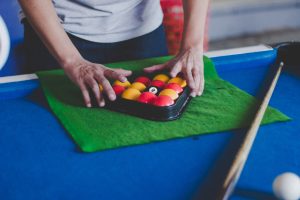 Your favourite beer on tap, lively music blasting and a pool table within reach. Sound like your ideal night with the boys? Well you're in luck. A holiday with a games room is like visiting your favourite bar every night, without the long queues and expensive bar tab at the end!
Not only can you have unlimited games on the snooker table, without rummaging around for a pound coin to release the balls, but you can choose the soundtrack of the night with the built-in sound system.
There's no better way to celebrate heading into married life than with a weekend in a luxury holiday home with your close friends. Even better when you have your own games room to hang out in.
4. Hen parties
Who said games were just for the boys? Games rooms are just as ideal for hen weekends with your closest girlfriends as they are for stags. From cocktail masterclasses in your own bar to air hockey tournaments with a glass of wine in hand, celebrating the bride to be has never looked so good.
Whether you're celebrating by the beach or in the heart of a lively city, you won't need to head too far from the comfort of your holiday home to enjoy an unforgettable night in with the girls.
5. Christmas breaks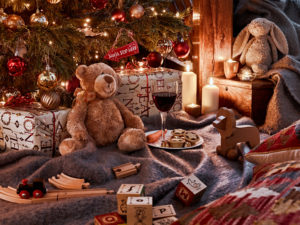 Christmas and New Year isn't complete without a family board game. And where better to host your annual festive games night than in a luxury holiday home in the UK? From competitive Monopoly matches after Christmas pudding to fun drinking games for the adults to bring in the New Year, the only limit to games night is how long you can stay awake!
Whether you've got a new video game hidden in your pile of pressies or rediscover an old family favourite buried in the back of the games rooms cupboard, there's a whole host of memories to be made with a fun-filled Christmas getaway with your family and friends.
6. Autumn & winter escapes
Whilst we may have some of the most stunning destinations for holidaymakers in the UK, we also have rather unpredictable weather, particularly in the later seasons. An autumn or winter escape in England or Wales is sure to bring at least one rainy day in. But the weather outside doesn't need to affect the mood indoors when you've got a well-stocked games room to hand. 
Take a break from puddle-jumping with the little ones or a rainy dip in the hot tub and head indoors for a relaxing game of guess who or an exciting few frames on the snooker table.
7. Big celebrations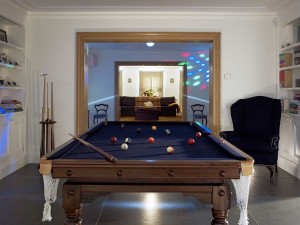 Planning a big birthday bash? Perhaps you're heading on a UK staycation for an anniversary celebration? Whatever the reason and wherever you're headed, a games room in your holiday home will make the ultimate central hub for groups to gather in.
With so many people under one roof, your own games room provides the perfect retreat to add another dimension to your celebration. Send guests to the games room while you get the perfect wedding snaps, or let the guest of honour choose the games for a day-long tournament.
Plan your ultimate games room getaway
From family holidays to wild weekends with friends, a holiday home complete with games room is the perfect destination for every getaway. And there's nowhere better to find the best cottage for you than kate & tom's. Our hand-picked selection of luxury holiday homes with games rooms have something for everyone, whatever the occasion.
To start planning your dream holiday for you and your loved ones, get in touch with our team on [email protected]. Simply tell us where you want to go and who you're bringing with you and we will take care of the rest.