With Goodwood festival of speed over and done with for another year the attention is now focused on the amazing Goodwood Revival.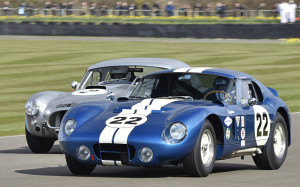 The Goodwood revival is one of the most highly anticipated racing events of the calendar year.  The three-day festival features classic cars and motorbikes from the period between 1948 and 1966.  That was when the Goodwood Circuit was one of Britain's leading race tracks.  Thousands of people flock to the festival to enjoy the races, great food & drinks, musical performances and fashion.
The festival is entering its 17th year and has become more very popular with sellout crowds a common occurrence.  This year the Revival will celebrate the 50th anniversary of the Shelby Daytona Coupe.  This classic car was in production from 1964 to 1965 and housed a massive 4.7-Litre V8 engine.  This is one of the most famous race cars in the world and it will be in its glory, racing around the Goodwood Circuit.
The Goodwood revival features 14 separate races, some of which are scheduled over multiple days.  The races are divided into various categories including: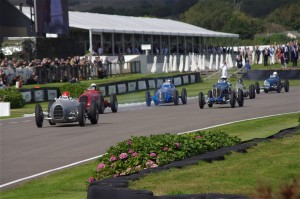 Celebrity two-driver races which feature everything from Morris Minors to Ferrari 250 GTOs
Saloon races (cars powered by small-block V8 engines), which include the Ford Falcon, Plymouth Barracuda, Dodge Dart and Mercury Comet Cyclone.
Sports car races featuring well-known car manufacturers from the 1960s like Alfa Romeo, Ferrari, Lotus, Morgan, MG and TVR
Single seater races which include everything from 1950s formula one cars to 1940s grand prix and Voiturette cars.
There will also be a number circuit parades to pay tribute to racing legend Jackie Stewart.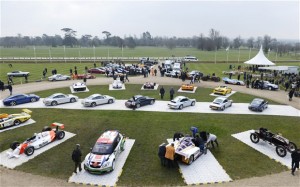 Stepping away from the track there is also a very large car show on the grounds.  The Goodwood Revival Car show will feature over 4500 classic cars from before 1975.  The cars battle it out in a series of fiercely fought car competitions to be named 'best in show'.
The festival also features the 'Over The Road' fairground.  It incorporates a number of vintage stalls, bars, live music and rides for the kids.  A great place to shop for vintage clothes, have a dance and try some great food.
Visitors to the revival can explore "High Street" — a series of replica stores built as they would have looked in the revival era.  Experience what it was like to walk into a Porsche garage, coffee shop, Haymarket news agent or clothing store in the 1950s.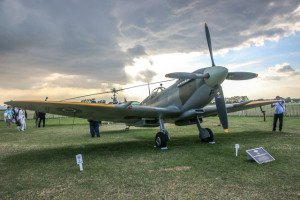 The Goodwood Revival also gathers together some of the most spectacular aircraft in the world.  The Freddie March Spirit of Aviation air show is a chance for visitors to get up close and personal with these classic aircraft.
The festival brings together a wide variety of musical acts, performing styles prominent during the revival era.  Kick back and enjoy some jazz or get your dancing shoes on and enjoy some swing or rock & roll.  There are over 20 musical acts performing at 10 different locations over the period of the Goodwood revival.
Have Fun with Fashion
The festival celebrates everything vintage and that includes fashion. Ladies get to choose from the fashion trends over three decades including:
1940s "Utility Fashion" which involved knee-length skirts, square shouldered jackets and sensible shoes.
1950s "Glamour Fashion" which included hourglass-accenting dresses with optional gloves, hats and sunglasses. A style perfected by movie stars like Grace Kelly and Audrey Hepburn.
1960s fashion which included skimpy minidresses, bell-bottom jeans and bold-coloured Capri pants.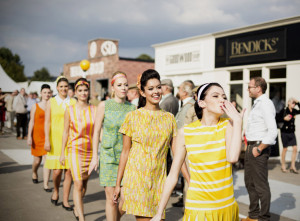 For men, the 1940-1950s plaid suit is always a popular choice.  However many like to display their hippy side and opt for bell-bottom jeans and colourful shirts!
In recent years facial hair has become a prominent feature at the Goodwood Revival.  Men prepare for the festival by culturing a magnificent moustache or beard reminiscent of a particular style between the 1940s and 1960s.  Combined with a classic hair cut and a great suit, some attendees look like they have stepped out of a time machine!
There are best-dressed competitions for prizes, so you can test your fashion sense against other attendees.
Location and rentals
The Goodwood circuit is located near Chichester, West Sussex.  The local area has dozens of additional attractions to visit including historical sites and high-quality restaurants.  It is a fantastic area in which to have your next holiday!
We have several properties very local to Goodwood which would make your visit extra special and enjoyable. They include Cedar Grange in West Sussex, Regency Hall in Nearby Bognor Regis, South Downs Villa in Hampshire and Beachfront House also in Bognor Regis. Four different types of properties and sizes to fit all groups.
If you would like more information about these or any of our properties please don't hesitate to contact us.