When you enter The Shed through its heavy glass doors, you're not just stepping into a house. You're stepping into the finished product of a vision, of ingenuity in design and a genuine passion for letting a property thrive in the context of where it was born; abandoning none of what matters while telling its story with a new voice.
So how do you take an agricultural shed and transform it into something unique while not forgetting where it came from? Owners Gemma and Chris knew exactly how. I was lucky enough to sit down with the visionaries themselves and talk Industrial Chic. It was a quiet, windy afternoon in Somerset, and as we sipped our coffees in the warmth of their dining room, I asked the couple how such a place came to be.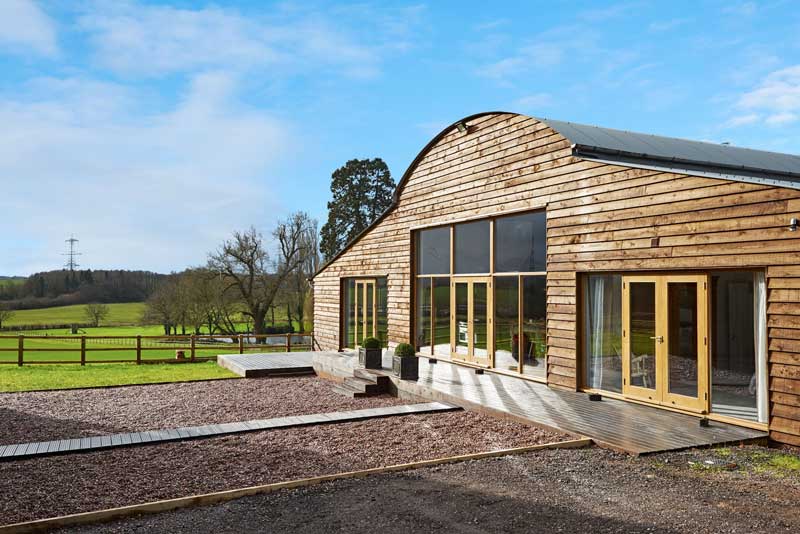 "The Shed was originally a 60s-built steel structure, so the shape of it is pretty much identical to how it was 50 years ago.
<style="padding-left: 30px">"We took inspiration from the building itself."
It's taking inspiration from what's already out there that's the point here. When you have a respect and passion for the rich store of bits and pieces gathering in all corners of the county, you learn to find new ways to let such things celebrate themselves – with a twist; a breath of life and a second chance at playing a part in the happy memories of guests' holidays and special celebrations.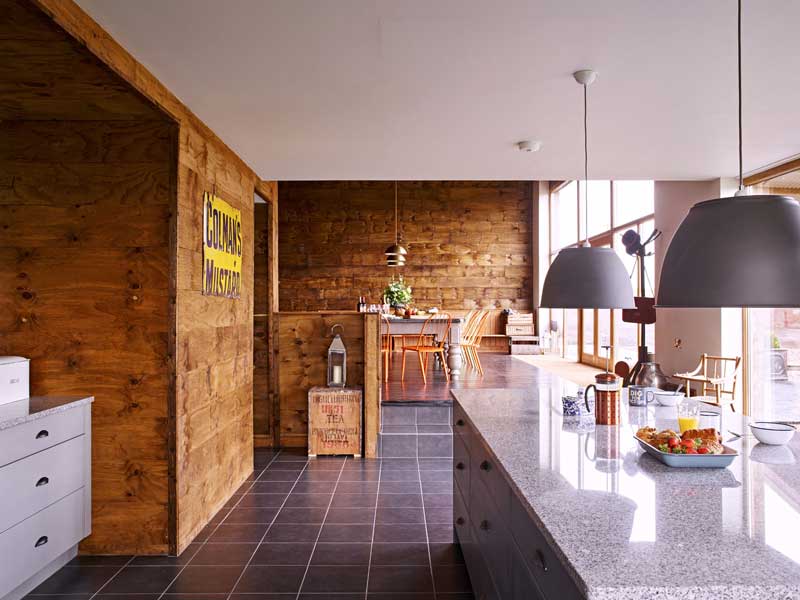 Gemma reflects on these key players in the design: "The thing about getting things locally is that it does all seem to still tie in… everything was rustic, we made sure everything was natural materials … it was upcycled as much as possible … [we] kept it really rustic and basic … there's a church pew that was from the local Methodist church … anything that we could reuse … the dining table, everyone always comments on that when they come in, especially if you're having a really big family gathering. … That's one of the lovely things, isn't it, to sit around and eat together." Chris remembers crafting the unique dining table himself from an old snooker table of all things:
<style="padding-left: 30px">"The snooker table and the pew I just had in my workshop for years; it's stuff I've collected with a view to using."
Pictured below, the dining table is finished in French Linen chalk paint from Annie Sloan. The retro dining chairs are from George Home.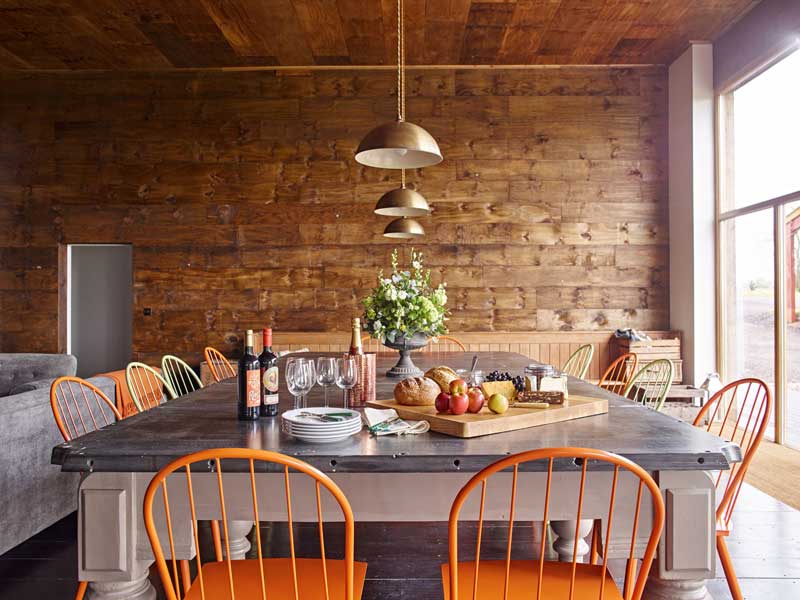 The dining table is definitely one of the first things that strike you as you enter this breathtaking place, eyes running wild over every detail – some quirky, many different, all impressively well considered. They're the touches the owners were looking for locally all along to complete their vision. "There are vintage biscuit tins and old scales … [which] brings a bit more character, makes it feel more lived in. I think that if you're doing industrial or agricultural it can feel a bit sparse, like you're in a barn still." It's a good job Gemma and Chris knew exactly how to balance the old and rustic with the new and edgy: such as the Gosford buttoned sofa from Next and iron bell cluster light from French Connection.
<style="padding-left: 30px">"You can't really plan it to the last detail from the start. But when it comes down to the final touches, like the fabrics, you can generally put together new stuff."
I wondered where it all came from. Where do all the weathered tea chests, rusty metal signs and other pieces live before being brought together so brilliantly?
"There are a few junk shops around. … We already had a few tea chests so we just got a couple more for the bedside tables. … We're lucky: Wellington and Wiveliscombe, which are our two nearest towns, are old mill and brewery towns, so there was a lot of that sort of stuff around if you go into a junk shop there: old farm machinery, signs and things. There are places like Fagins as well, which is a huge antiques place down towards Devon. Because it's quite a popular style at the moment. … There's also The Emporium: they have unit after unit of local makers and artists and are an amazing source of upcycled furniture, soft furnishings and vintage finds. They're just down the road from us and we've used them extensively for both properties."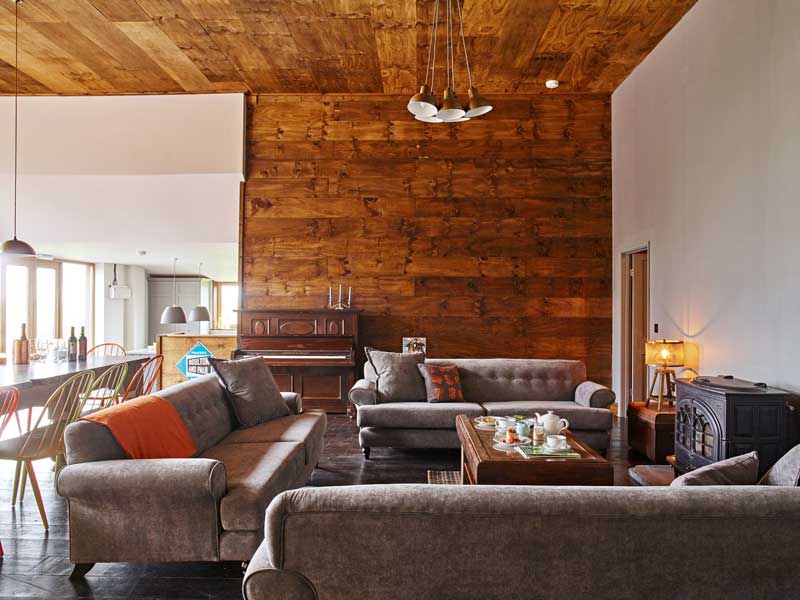 Chris talks a little more about the ins and outs of The Shed – the deceivingly simple combination of elements involved. "We try and have a consistent aesthetic. We don't try to mix and match too much … so really, in there, if you break it down to its fundamentals, it's wood, slate and fabric, that's pretty much the only materials in there."
Visitors to our page for The Shed will notice the option to book Little Bickley, the owners' most recent development on the farm. I wanted to know a little more about it. Would guests be getting anything different? What could they expect from this smaller property?
"[Little Bickley is] more cosy, because, again, we just took the queue from the building, and because it is a slightly newer-feeling building. … the rooms are smaller, cosier, there are more materials in there. … They both [The Shed and Little Bickley] had to fit into a rural setting and be sympathetic to everything else. … Slate on the floors, wood on the walls. … We always make every decision individually as to when and where it's fitting in."
Click on the images below to learn more about this incredible example of Industrial Chic at its best…
Key features
Indoor heated pool
Hot tub
Cinema room
Table tennis and table football
Piano
Children's play area and trampoline
Hen parties welcome