We've all been there; going to bed looking forward to day out and getting up in the morning to grey rather than blue skies and the rain pelting down. It's the kids who are the most upset about this unwelcome turn of events and will be on a real downer and will no doubt still beg you to go on that picnic. Having your kids in the house all day may fill you with horror but involve them in the following rainy day activities and those tears will soon dry up, a lot quicker than the rain will anyway.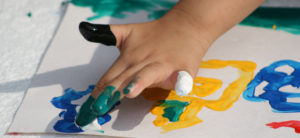 Arts and Crafts
From the moment a child can first hold a pen and realises the havoc they can create with it they will draw on themselves, the walls, the dogs and anything else that doesn't move. By having an art box to hand for those days when the weather gods are working against you can be fun for all concerned. Drawing, colouring, adding glitter and other embellishments will keep them happily amused for a few hours, and you will get into it as much as them.
Music
Channel that inevitable noise into an activity by having a music session. Whether they are dancing to it, listening to it or banging a wooden spoon off a biscuit tin children just love music. As well as the most popular pastime in the world it is also a recognised therapy so by letting them bang away or dancing like loonies to their favourite tunes you are also letting them to get rid of that pent up energy; result!

Let's Pretend
The world of make believe is a magical one. You will see them doing the same as you did when you were a child. Pouring imaginary drinks, using a banana as a phone, you get the idea. Lose your inhibitions and throw yourself into the pretence. Get down to their level and make believe with them only don't take over. If they want you to be the witch then suck it up and be the witch, simple as.
Reading
If a bit of quiet time is called for read them their favourite stories. Even if you know it off by heart after reading it 100 times at bedtime still make the effort and get the book out and snuggle up with them so they can look at the pictures while you tell the much loved tale. Most parent reserve reading for bed time when in reality they benefit from it at any time of day and you are simply replacing their story time at school they are missing because of the holidays.
Kitchen Chaos
There is nothing kids love more than taking part in an activity which has an end result. Arts and crafts are a fine example and you probably have a gallery of their works of art. Letting them in the kitchen to make simple stuff that they can actually eat afterwards is another big favourite. Get them into their aprons, have stools or chairs they can stand on to reach the work top and create such delights as crispy cakes and gingerbread men together. The latter are a big favourite as you can let them decorate them as well. Yes it's messy but boy what fun you will all have.

Exploring New Locations
Every child enjoys exploring and when on holiday this is the first job as soon as the door to your accommodation is opened! kate and toms have a large selection of child and adult friendly holiday homes to choose from which will be ideal to try out the above activities, even if it isn't raining.
To find out more head over to our Houses to Escape too page!