Continuing on in our 'Learning from Stately Homes' posts this time we are finding out about the sports and pastimes.
Many people have become interested in stately homes because of the popular television series Downton Abbey, which features the stately Highclere Castle.  The television show has also made people curious about the lifestyles of residents living in these beautiful buildings.  If Downton Abbey is anything to go by, living in a stately home was very glamorous and exciting.
But what did they do for entertainment?  This article will look at some of the sports and pastimes that people who lived in these incredible homes enjoyed.  Many of these activities remain fantastic fun for the families of the 21st-Century, so give them a try!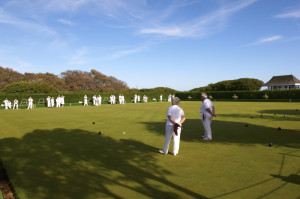 Lawn Bowls
People in stately homes played a variety of "boules" games which involved throwing or rolling heavy balls towards a small target.  They also played lawn bowls, which has been around in its modern form for well over 200 years.  Lawn bowls became a very popular afternoon activity on the flat lawns surrounding stately homes.
The indoor variant of lawn bowls was also played in some stately homes.  It was played on a carpet-covered board which is about 30 feet long.  It used round balls instead of roll-biased balls. The target pin was a screw fixed into a board on the floor.
Lawn bowls and other boules games can be hours of fun for the family and can be played in yards of almost any size.  This past time can be enjoyed by people of all ages.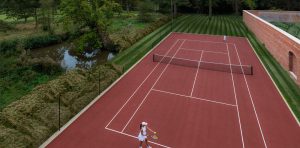 Tennis and Badminton
Tennis became very popular in the United Kingdom sometime around the 16-Century.  It was sometimes referred to as one of the "The Sport of Kings" because King Henry VIII of England enjoyed playing the sport.  It became very popular within the British aristocracy and was played at many stately homes.  The sport was usually played on a well-manicured lawn, surrounded by a fence to block errant balls.
Badminton developed a little later on.  First established during the 17th-Century in British India, it eventually made it's way to the United Kingdom.  It is said that Badminton House in Gloucestershire, one of the finest stately homes in the United Kingdom, gave its name to the sport.  Establishing a badminton court is much easier than a tennis court because only a simple net, shuttlecock and rackets are required.
Both sports remain excellent activities for friends and families today.  Although installing a tennis court can be expensive, badminton can be played on almost any  outdoor space.  It is a great way to get the kids outdoors and having fun together.
Skittles
Skittles is the sport which modern ten pin bowling originated from.  Old English Skittles was a popular past time in local pubs and often made its way into stately homes.  A round puck would be thrown at a table containing 9 pins.  The goal of the game would be to knock over as many pins as possible.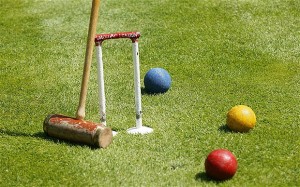 You can still buy skittles tables today — a very unique and quaint form of entertainment for your home. 
Croquet
Most people consider croquet to be an old-person's sport today.  However, 150 years ago it was very popular in stately homes with people of all ages.  Many first-time players are surprised by how fun croquet can be!  The whole family can enjoy croquet and it is a great way to spend a summer afternoon.
Walking
One of the most popular activities for the occupants of stately homes was simply walking around the grounds.  Most stately homes had large and scenic English landscape gardens.  This landscaping style focusses on maintaining a natural feel for the garden, with expansive lawns, statues, lakes and groves of trees.  Walking around such beautiful gardens was a relaxing way to spend a morning or evening.
While most modern homes don't have room for expansive lawns and lakes, you can still pop down to the local park and enjoy an afternoon with the family.  Most parks in the United Kingdom have been modelled after the English landscape garden design-style found at many stately homes.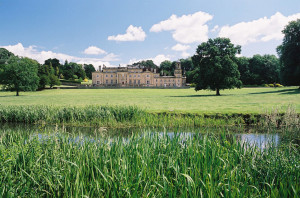 Hunting and Hound Trailing
Most occupants of stately homes loved to hunt and would perform regular quail, duck, stag and fox hunts.  Some of the types of hunts were slightly unusual, with one account mentioning dogs hunting for eels in local waterways!
Some country homes also took part in an activity called hound trailing.  A cross-country course of approximately 10 miles was marked by a paraffin or aniseed oil trail.  The dogs would race through the trail.  Lords and ladies would place bets on the winner.
It's unlikely that many families living in the modern world would enjoy hunting today.   However you can still get out with the family and enjoy a nature walk with the dogs.
Outdoor Parties and Balls
Balls were a popular activity for occupants in stately homes.  They would invite friends and relatives to visit and enjoy some dinner and live entertainment.  While most of the events were very formal and indoors, some parties would be held outdoors over summer.  Live music, champagne and great conversation are all as relevant today as they were decades ago.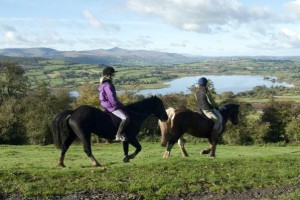 Horse Riding, Equestrian Riding and Polo
The occupants of stately homes usually had many horses which were used for both work and play.  Horse riding, equestrian riding and polo were all popular pastimes in stately homes.  All of these horse-related activities remain very popular today and can be enjoyed at horse clubs while on holidays.
Collecting
People who lived in stately homes were often avid collectors of objects including plants, antiques, stamps, books and butterflies.  That is why so many stately homes had large libraries, greenhouses and display rooms.  Collecting is still a fun hobby that anyone can get into and is a fantastic way to decorate your home.