So, the big day's booked, the invites sent and the dress bought. There's only one thing remaining on the to-do list – the hen party. And what better way to celebrate the beginning of married life than with a weekend away with your loved ones ahead of the big day? 
Whether you're planning your own send off into married life or you're organising an unforgettable hen-do for the bride to be, a kate & tom's party house is the perfect backdrop for every bride. 
Indoor bars, heated pools and private chefs galore, kate & tom's holiday homes have everything you need for a fun-filled weekend with the girls. We also have a large variety of houses equipped with their very own hot tub or jacuzzi.
From toasting champagne to sharing secret stories, hot tubs are a must-have for every hen party. And with our handy list of 6 hot tub dos and don'ts, the only thing you need to worry about is which swimsuits to pack. Read on to discover what you can and can't do in a hen party hot tub…
Can you drink alcohol in a hot tub?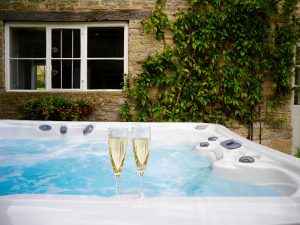 There is a lot of information out there about drinking alcohol in a hot tub, and most of it contradictory. But there is no need to worry, you're absolutely fine to toast the bride to be with a glass of bubbly or two in the hot tub.
You just need to take it slowly and bear in mind that your blood pressure and internal body temperature are raised whilst in a hot tub so drinking too quickly or too much could leave you a little lightheaded. Remember to stay hydrated and enjoy a cold glass of water and ice before your favourite cocktail.
Booking your own private waiter alongside your hen party hot tub house means you can have your favourite cocktails and G&Ts brought to you whilst you enjoy a soak in the jacuzzi. What more could you want as you enjoy your last weekend as a singleton?
Can you eat in a hot tub?
Whilst the thought of your private chef bringing you a delicious tray of your favourite snacks or cooking up some luxury appetisers for you to enjoy in the hot tub sounds ideal, eating in a hot tub is actually a big no-go. You should save the private chef goodies for before or after your soak.
The heat of your hot tub can interfere with digestion, so it's recommended that you wait at least an hour after eating before switching into your bikini. You are also risking bacteria getting into the hot tub from crumbs and dropped food – something your hens certainly wouldn't appreciate.
How many people can use the hot tub?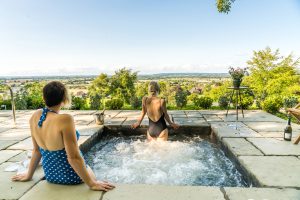 Whether you're celebrating with a close group of your favourite ladies or you've got plenty of people with you for your hen party, there are a variety of hen party houses with hot tubs to suit your group size.
The number of people you can fit in your hot tub is entirely dependent on the size of it. You don't want to cram in as many of you as you can as this makes it more likely for accidents and can cause an overload for the tub, but most large hot tubs can comfortably fit 7+ people with enough room to relax. There are even some houses with more than one hot tub, so you can always find somewhere to fit all the ladies.
Should you use bubble bath?
This one may seem rather self-explanatory but it's something that has caused issues for a number of hot tub users. In short, you should not add anything into your hot tub other than the water already in there.
All kate & tom's hot tubs will have been cleaned and prepared ahead of your arrival so there's nothing you need to do to enjoy your jacuzzi. Bubble bath or oils can interfere with the hot tub's pipes and filtration systems, that can damage the system.
Can you use a hot tub in all weathers?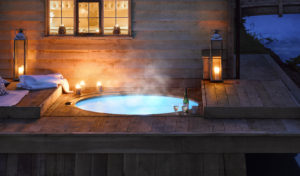 One of the biggest benefits of a hot tub is that rain or shine, you can enjoy a nice warm soak under the stars. Of course, most of us would prefer a sunny afternoon or a crystal clear night for our hot tub parties. But as long as you're under a shelter, the weather shouldn't impact your plans. Unless you're in the middle of a thunderstorm, in which case you'd be better off indoors, grab your swimming costume and a glass of bubbly and head to the hot tub.
Can you play music in a hot tub?
Music is the best backdrop for any hen party – especially those in a party house with a hot tub. So can you play music while you're enjoying the bubbles? Of course you can. Turn it up loud and sing the night away with your closest friends. Be sure to keep your speaker, phone or any other electrics a suitable distance from the hot tub to avoid damaging your device, the hot tub or yourselves! 
Plan the perfect hen party with kate & tom's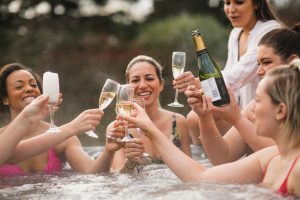 Drinking games, star gazing, unwinding after a day walking in the countryside or getting ready for a night on the town – there are countless reasons that your hen party is made even more magical with a hot tub.
Round up the bride's closest friends, pack your bags and get ready for an unforgettable weekend break in a kate & tom's party house. Our team are primed and ready to choose you the perfect backdrop for your special trip.
Simply get in touch today and see how we can help. Once you've found the perfect hen party house with a hot tub and other luxury features, the only thing left to do is pick out your favourite swimsuit!