I was lucky enough to speak with Gill from The Works in order to learn more about this incredible member of the Industrial Chic family.
The Works is our second featured property based in Somerset and brings with it an unforgettable mix of stylish industrial steel and brick, bright open-plan living spaces, unique luxury features and a delight for the eyes wherever you look. Step inside…
How would you describe the interior design at The Works and what was the inspiration?
I would describe it as loft/ industrial. It was inspired by lots of things; from the corrugated houses in Iceland to various bars where we had seen different materials used. The house is actually built inside an old atco steel framed building: we added more steels to support the huge span ceilings and then the carpenters built lots of "pods" which made up every bedroom and bathroom… each one is the perfect size to fit for our business; as an example the space by the bathrooms is exactly the size to fit a daybed.
What are your favourite features or pieces of furniture, and why?
Favourite things are the curved ceiling in the spa, which makes it feel organic. The fabulous triple glazed 45 metres of German engineered bifolds which you can open with your fingertips. Also the totally open living space but with the brick wall around the kitchen which has a gap at the top to keep the open feel but divides the living space into zones… when we were building, the first thing I bought was the high-end German Bulthaup kitchen and we decided to build the wall to fit it and also show off our fabulous stonemason Tim's bricklaying skills. I love the furniture Simon (my husband) made, such as the lights from old blow lamps and an old motor, or the two huge tables made from steel and trestles, or the coffee tables from old equipment packing cases… all totally unique. I also love the Egyptian heads at the entrance.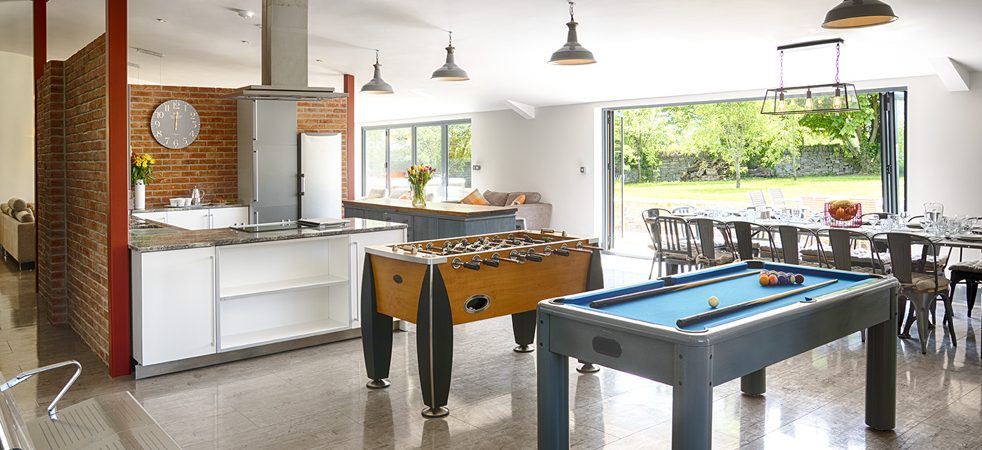 What drew you to the industrial chic style?
The building was an industrial building so it had to be this style. It used to have a picture framing business in it. It's also very pragmatic for our business… hardwearing surfaces and big open spaces, which guests love.
How were the furniture and decorations sourced? Are there any particular companies/designers you would recommend?
We designed and sourced everything ourselves. I spent months at local auctions (the big old French side board we painted grey, and my carpenters covered [it] with corrugated steel and skirting board so it blends in). Almost everything was custom made, we used local steel fabrication shops to make the steels, skirting board and architrave which we designed, the steps were bent from steel we sourced. From eBay I found old school lockers, benches and chairs which Simon made into wardrobes and headboards and even the side of the hall wall. We researched how to build a steam room, sourced all the components and our chippies built and even tiled it with incredible attention to detail. The cold water bucket shower we imported from Finland and the sauna came from Nigel Mansell's house. The tiles and heated seat which everyone loves we also designed and sourced components for.
Lastly we had a local artist, Kay Parmentier, custom paint a picture for each bedroom based on things that meant something locally… steam engine, bee, swallow, rooster and barn owl, and they were framed by the business that used to be in the building!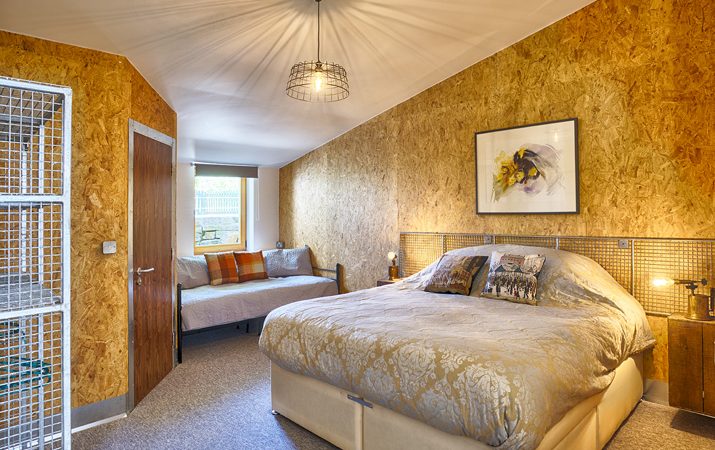 Do you have any tips for people looking to design their house's interiors in a similar way?
It's hard and you have to be very technically aware and able to design and customise (or pay a lot of money!). As an example we had to buy OSB board for the walls that could be left on show (so no marlins) and then it had to be coated with two coats of fire retardant varnish to comply with building regs. We had to work out how to cut the corrugated iron millimetre perfect and then fix it invisibly to walls. We designed all the skirting and architrave and thought about how it would be fitted.
You also need to be good at sourcing… the floor which is a commercial-grade German vinyl we saw in France and then imported from Germany. We had to get the quantity exactly right as extra would have incurred a huge delivery cost. It's fantastic as it reflects the light, looks industrial but is much warmer than concrete. We saved huge amounts of money by buying at auction and eBay.
For our guests you have to think about how it will be used… we have two 500l hot water tanks with pumps so every shower is always hot. The Sonos music system means fantastic sound everywhere. A kitchen with two large fridges is a must… and lighting it well is critical so our electrician put in LED lights in slits in the wall and coloured lights outside as well as reusing the original industrial lights from the building.
We also thought about the eco credentials… we have 13kw of solar power on the roof, triple glazed bifolds, huge amounts of insulation and an iboost device which stores excess electricity in the hot water tanks. All making it very warm but cheap to run.
Lastly we had a fantastic team of craftsmen who worked without detailed plans and were willing to customise the design as we went along and use unusual materials. From the groundworkers who dug out the patio and the front and filled gabions with stone to the carpenters who built all the structure and coped with osb, corrugated iron cladding and steel skirting boards, the stonemason who did the brickwork and put up all the steels, the electrician who was creative with lighting, the plumber who thought about keeping everyone warm and supplied with hot water and the painter who sprayed to get a perfect finish… They were all amazing.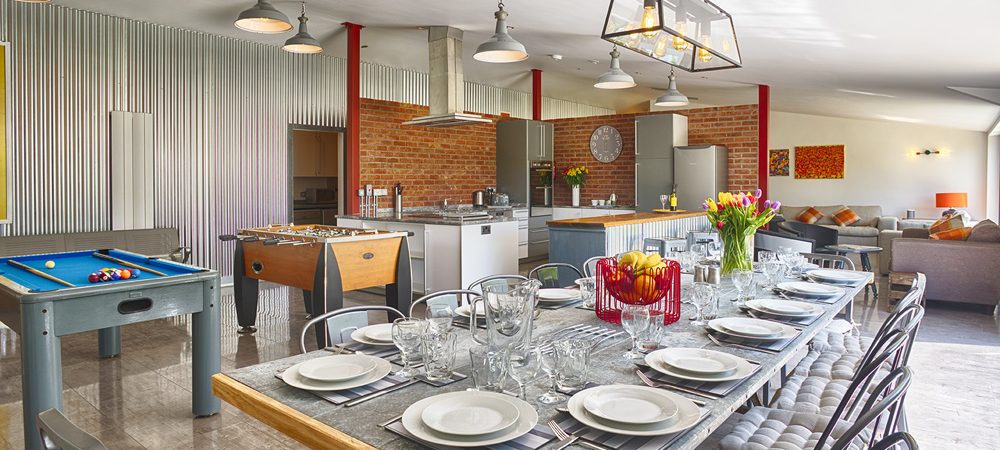 What do you think makes the house stand out?
It is unique and always gets the "wow" response when guests arrive. It's also a fantastic social and relaxing house.
What next? Are there any ideas for future projects? Is there another house on the horizon? How might it compare to this one?
We are always looking at new projects… maybe an eco house next or a ground sheltered project!
Click on the images below to learn more about The Works…
Key features
Shared heated pool
Hot tub
8 person traditional Finnish sauna
8 person tiled & vaulted steam room with aromatherapy
Heated seats and bucket shower in spa
Private treatment room
Bio ethanol fire
Pool and table football
Sonos sound system