A view to thrill
Bringing a rustic warmth to the brilliantly finished structure of a contemporary lake house, Water's Reach has seemingly realised the dream: the best of both worlds, a "luxurious ski-chalet-meets-hunting-lodge". "The general theme is 'luxurious lodge', and the antlers dotted around the house, the warm plaid fabrics and the faux fur rugs all contribute to the feel." Stylish fires, designer furniture and old wood is everywhere you look, as the unfathomable natural beauty of the Lakes beckons from beyond glass walls. This is the front-row seat at one of the greatest shows on earth.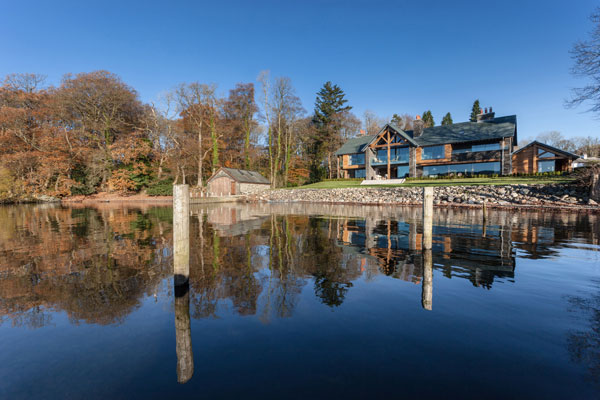 Let food bring you together
Modern touches continue to impress as you move into the kitchen. Stone surfaces and quality appliances by Gaggenau, to the Ralph Lauren, Andrew Martin and Van Thiel furniture. Eating meals while catching the sun at the green-oak dining table, you're surrounded by all the mod-cons and comforts you could dream of.
But it gets even better. Why not leave the professionals to it? Contact Dineindulge, sit back and enjoy the very best with your guests – without lifting a finger!
For warmer weather, take the fun to the outdoor terrace with dining area and sun loungers, along with a BBQ area and extra seating.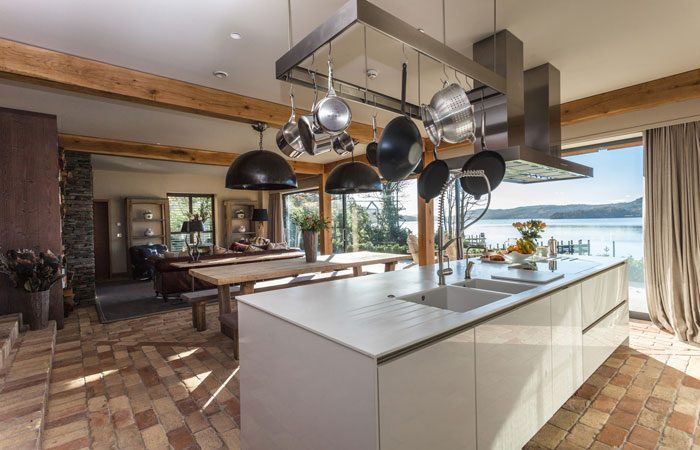 "Green to the very door"
Wordsworth may in fact have been describing the scene he found himself in 'a few miles above Tintern Abbey' but in essence he was always writing about what he knew best: all the natural beauty that nurtured him growing up as a boy in the Lake District.
At Water's Reach, it's all there waiting for you past the front door. Walk those same dales, woods and mountains immortalised in Wordsworth's poems. Familiarise yourself with them and recognise in them the very same power they've held over countless locals, walkers, artists and writers over the centuries.
You can learn more about Wordsworth and other famous local poets and writers by visiting his former school and houses: one of which is the cherished Dove Cottage in Grasmere, where you'll walk in the poet's footsteps, learning about what life was like in his day; the people he lived with, visited; what inspired him; and the lasting impressions his life has left on us all.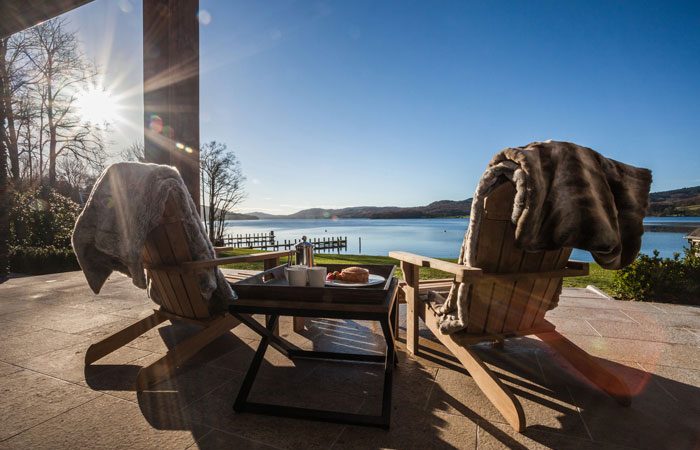 Key features
Games room
TV and entertainment
Modern kitchen with Quooker tap and three ovens
Outdoors dining and BBQ
Private jetty
Located right on Lake Windermere
Click to learn more about Water's Reach…