Kent is known as the 'Garden of England' – and it certainly backs up that reputation when it comes to summer. There are plenty of fun things to do in the beautiful region through the summer months, whether that's with toddlers, teenagers or just a tribe of your closest friends.
From grand castle parklands to serene orchards filled with season fruits, nature lovers will be at home in this stunning south-eastern county this summer. So, dig out your walking boots, brush up on your history knowledge and head out into the glorious landscapes of Kent.
Whether you're visiting from out of town, or you're a local wanting to try out something new, our guide to fun things to do in Kent this summer is sure to fill your days with excitement!

Things to do with kids & toddlers
Planning your days in advance can be a lifesaver when you're travelling with kids. Avoid the constant 'are we there yet?' questions with fun activities right around the corner.
Dreamland in Margate offers exactly what it says on the tin. It's a child's dream brought to life, with a roller disco, an abundance of thrilling rides and an exciting indoor play zone complete with a circus tent. This park has plenty to do for children of all ages, so whether you're travelling with toddlers, babies or teenagers, Dreamland is sure to be a winner.
Or, if the sun has his hat on, make the most of the rays with a trip to Diggerland. The unique digger-themed park has over 20 different rides and drives. Diggerland is perfect for both small and large groups looking for something a little different in Kent this summer. With rides aimed at children between the ages of 4 and 14, this park experience has something for everyone.

Dog-friendly destinations in Kent
If your 'kids' are furry with four legs and a wet nose, Kent is the perfect place in summer. After all, it didn't get coined the 'Garden of England' for nothing.
Looking for things to do with a dog out in nature? Mount Ephraim Gardens is a glorious, dog-friendly destination in the heart of Kent. With 10 acres of stunning terraced gardens to explore, you and your furry companion can while away a sunny afternoon taking in the beauty of Kent's nature.
Maybe your pup isn't fully trained yet and you don't want to risk them spoiling the private gardens of Mount Ephraim? Faversham Stone Chapel is set amongst acres of gorgeous open greenery, perfect for you and your pooch to stretch your legs. As the home to the only Christian building in England to include the remains of a 4th century mausoleum, history lovers will be in their element too.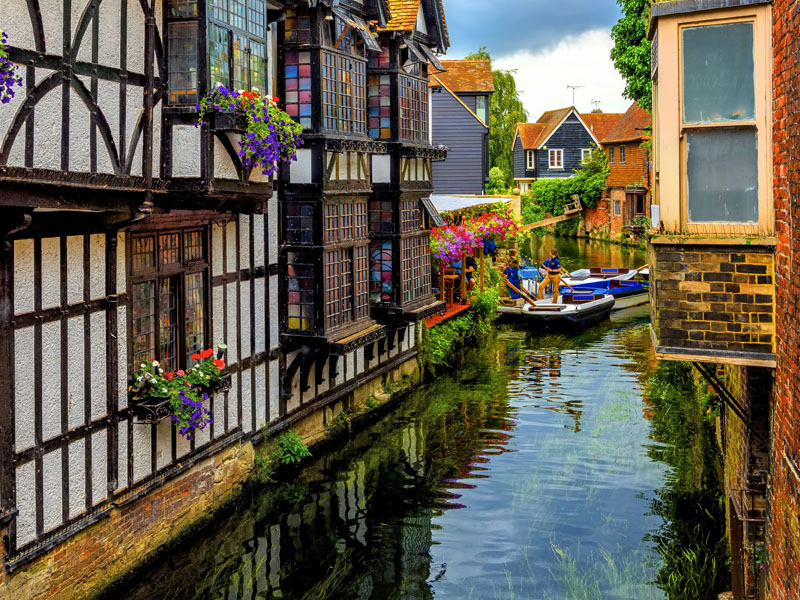 Free things to do in Kent
A day out in Kent doesn't need to break the bank. In fact, it doesn't need to cost anything at all. With a number of things to do for free in Kent, you can fill your day with exciting activities without spending a penny.
On a romantic staycation for two? Biddenden Vineyards offer a tranquil, relaxing escape from the lively towns and seaside resorts. Make the most of your time together as you wander through the 23 acres of vines, with free entry on a self-guided tour. You'll have to pay a small fee if you want to sample one of over 80,000 wins produces and sold each year.
If you're travelling with the family, Eynsford Castle is the perfect spot for an afternoon picnic in the sun. With free entry for all and dogs allowed to roam free, we can't think of a better way to unwind on a beautiful summer's day.

Romantic days out in Kent
From beautiful coastlines to grand castles, Kent is packed with unforgettable destinations for you and your loved one. Looking for ways to impress your partner? There are countless romantic things to do in Kent that will leave them completely starstruck.
Unofficially titled 'the loveliest castle in the world', Leeds Castle takes romance to the next level. Stunning grounds, beautiful sunsets and private candlelit punts on the river – this beautiful castle gives a new meaning to a grand gesture.
Show France the true meaning of romance as you overlook the blue skies, green grass and crystal clear waters on the White Cliffs of Dover. If you're searching for the perfect spot to pop the question, look no further. With stunning views from every angle, these famous cliffs have seen their fair share of romance.
Places to stay in Kent
Looking for the ideal luxury rental to head home to after a long day exploring Kent?
kate & tom's are on hand to help. With a large collection of hand-picked holiday cottages in the south-east, you're sure to find the perfect property for your next getaway.
Want to know more? No problem. Simply get in touch with our friendly travel team on 01242 235151 today for more information about any of our large holiday houses.
Please share this post if you found it helpful.
---
Call us now on 01242 235151. We're open 7 days a week.