Vast expanses of wild moorland, rugged coastlines giving way to glorious beaches and cream teas to die for; it can only be Devon. This long standing favourite of holidaymakers from far and wide shows no sign of waning in popularity, and quite rightly so. There is more to Devon that the above however, and we have compiled a this list for you to illustrate the most unusual places you can visit on a trip to this beautiful county.

A La Ronde
You may think you have seen every kind of house going, but you ain't seen nothing like this! This 16 sided house was built in the 18th century for two spinster cousins, the misses Parminter, and is now owned by the National Trust. This Grade l listed building is located near Lympstone, Exmouth and legend has it that it was designed by Jane Partminter. Since the National Trust took over ownership it has benefited from a superb restoration to bring it back to its former glory, and remove several distasteful features added by other owners over the years.
Allhallows Museum
Located at Honiton this unique museum pays homage to the lace which put Honiton on the map. A museum dedicated to all manner of lace and lace making may not sound greatly exciting at the outset but the testimonies from those who have visited beg to differ. As well as the lace you will also find a collection of Honiton Pottery, a dolls house from the Victorian age, palaeontology, war memorabilia and much much more.
The BIG Sheep
Whoever thought of dedicating an amusement park to all things sheep related deserves a medal for ingenuity. The BIG sheep is located in Bideford, North Devon and won the award for the best large attraction in 2013/14. Here you will find sheep racing, various live shows, a chance to get up close and personal with little woolly lambs and even witness them being born.

Beer Quarry Caves
Situated a mile away from the village of Beer, where else?, this underground complex of caves and caverns is man made and England's main source of Beer stone. This is the stone you will see used as window and door supports in churches and cathedrals due to its unique colour and workability. The hour long tours here are well worth it as walking through the maze of caverns knowing they are man made is awe inspiring.
Dartmoor Otters and Buckfast Butterflies
A nature reserve like no other, this brilliant attraction gives you a real insight into the world of otters, butterflies and terrapins. Anybody with a penchant for nature will have a whale of a time here seeing this amazing creatures in their natural habitat. This reserve is home to many endangered species and the butterfly house has to be seen to be believed.
Castle Drogo
There are numerous castles dotted around the south west of England so why have we included this one in our list? Because it has a unique place in history as being the last castle built in England. As the conservation work to save this wonderful building is ongoing more and more areas are constantly becoming open to visitors. If you want to view a castle with a difference and a history that has to be seen to believed then got to Castle Drogo.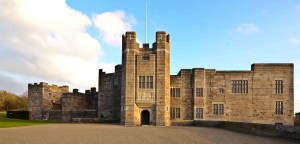 kate and toms have many properties to choose from if you are thinking of visiting Devon and maybe one of these suggestions, head of to our Devon Properties page for more info.