With the restrictions on holidays abroad constantly in a state of flux, the staycation has officially become a new staple for holidaying families who still want to embrace luxury.
This year especially, the benefits of being able to get away and escape the mundanity of everyday life with the people you love are more obvious than ever before. 
What better way to set yourself up for an indulgent week or weekend of R&R with the kids in tow than by going self-catering and taking all of the guesswork out of your holiday break? 
Here are the top 5 advantages to self-catering child-friendly holidays in the UK.
Take the stress out of mealtimes


Luxury holiday cottages that are ready and waiting for families have large, luxurious dining spaces that are primed for memorable mealtimes with the family. 
Who wants to be worrying about whether you can find reservations for a restaurant when you can fit the whole family around the table with 100% certainty at a luxury house instead? 
Eat when they want rather than fitting in with rigid mealtimes – so you can make the most of your holiday and enjoy days out with more flexibility.
Avoid problems with large bookings at restaurants if you're on a holiday with the whole family by booking self-catering accommodation. That way you can say adios to restrictions and hello to relaxation. 
And with that in mind, the second advantage is undoubtedly…
Go by your schedule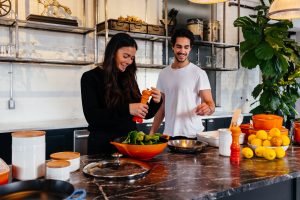 One of the biggest benefits of self-catering accommodation is that you can make it feel like a home away from home whilst soaking up the bliss of being away. 
There's no need to go to a specific place to eat, you can enjoy food by the pool, in the games room, by the tennis court (because yes, there are child-friendly stays with all those things and more)!
You can cook all your child's favourite foods rather than sticking to set menus, with the added benefit of no travel time to and from the restaurant. 
Take a break by eating and relaxing. The kids' needs can instantly be taken care of. Babies can go down for nap time at the right time, kids can be left to run around in the sun and on swing sets and you can avoid the potential meltdown of toing and froing altogether. 
It's also worth noting that a lot of the self-catering accommodation options available have personal chefs if you need them. Yes, you read that right! 
On the days where cooking just feels like too much of a hassle, you can get the restaurant experience within the comfort of your own holiday home. And if you don't want to use the personal chef? Well, then, you'll still save money on your food bill! 
More time for the adults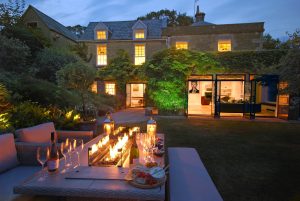 At a restaurant, you might have to leave early to keep to kids' bedtimes. At self-catering accommodation, you can put them to bed then enjoy the rest of the evening in the hot tub, by the fire or in the pool, to name a few options.  
It's true, a lot of the luxury self-catering options available have entire games rooms (or games barns!) dedicated to keeping a family with children happy. What an amazing memory it would be for children to go away for a week and be able to run around playing table football, jumping on trampolines and playing cricket or croquet all day! 
With kids exhausted from all this fun, you can tuck them into bed and leave them dreaming away about the wild nature and endless adventures they've had in the garden. That leaves you able to wind down and enjoy some adult-only time. 
What better way to unwind than by taking a lavish dip in the hot tub, cracking open a bottle of champagne and gazing up into a pollution-free night sky filled with scattered glistening stars?
Enjoy the best facilities all to yourself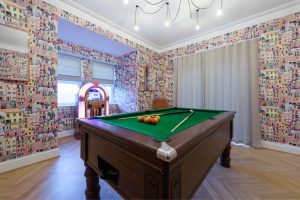 Catered accommodation usually means sharing a pool, living area and entrance, however, with self-catering you can enjoy privacy and serenity with only your loved ones around you.
Forget running into people on the morning coffee run, self-catering means that whilst you can be up and out early without fuss, you can also take a much-deserved break. Have a lie-in on a sumptuously pillowy bed then trundle down to a beautifully light and airy kitchen for a cafetière of coffee on your own time. 
There's no deadline for a breakfast of soggy cereal and cold boiled eggs. Instead, the world moves at your pace. You can take a deep breath and sink into a sofa with your book and cup of coffee in hand while the kids play table tennis or tuck into a cupboard chock full of DVDs and books bound to keep them occupied.  
Get kids involved in the cooking process too!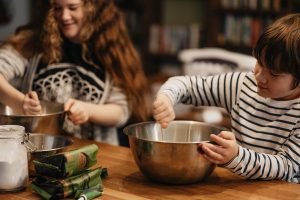 How nice would it be to teach your loveable little cherubs to make cakes and desserts with freshly picked berries from the garden, grounds or a wild walk you'd been on? 
Well, with a beautiful kitchen that has all the essentials you'll need, you have the option to get the kids involved in the cooking process whenever you feel like it! Having the options means you can make their first time learning to cook an integral part of your children's holiday memories with a self-catering stay that fits both your and their needs. 
Book your child-friendly UK holiday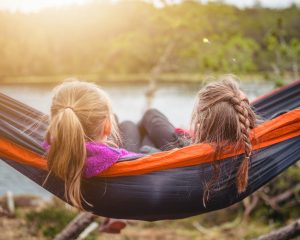 Whether you're hoping for a relaxing getaway where you can unwind while the kids play in the pool and the personal chef comes over at night-time, or you're a parent who likes to take the reins on your cooking capabilities when holidaying, self-catering is the clear winner when it comes to satisfying the whole family.  
So, make your holiday this year extraordinary for both you and the ones you love most with a kate & tom's getaway – because you deserve it, and so do they. Don't hesitate to contact us on [email protected] if you have any questions.